Sorry for the late reply fellas. I was sick for two days and couldn't do much online activities, playing catch-up.
Star1 wrote:
Anyone paying the BIN for that monitor needs a psych evaluation....
That said it's a decent monitor, but for a tenth of that price..
I bought one for $300.00. Still a little high for my tastes however it's better than $700.00.
Classicgamer wrote:
Sony PVM's are nice monitors. They have a sharp image with well defined scanlines and decent contrast. They aren't in the same league as the BVM line though. They were sold at a far lower price point but, a lot depends on what you like.
The image on a BVM can be a little too sharp for retro games for some people. Those people prefer the more authentic look found on TV's and arcade monitors. PVMs can look a little jagged too sometimes.
I have a 20" Ikegami TM20 -90RH which is broadly equivalent to a BVM on price and spec. It's technically excellent but I usually prefer to play on my 25" or 29" arcade monitor. It's up to you to decide what you prefer.
The image on pro video monitors like a PVM looks like this with thick black scanlines and jaggies: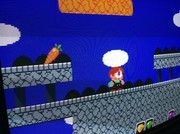 Tv's and arcade monitors bloom more so the image looks more like this: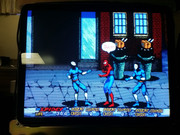 As a side note, $700 for an old 20" PVM seems a little steep to me unless it's very low hours. At that price range, you have other options to think about.
This Ikegami TM20-17rh is comparable to a PVM (on price and spec) but it's a little cheaper (if you can pick it up) and has a curved screen which is better for retro gaming.
https://www.ebay.com/itm/USED-20-Color- ... SwM8RcEBGt
You always find a bunch of CRT arcade monitors on ebay. E.g. This curved screen:
https://www.ebay.com/itm/Samsung-A48KRD ... 0530!US!-1
Happ still sells new Tri-sync CRT arcade monitors. They aren't as technically excellent as a PVM but they let you play every retro game ever in native res and new means less hassle. I have two myself:
https://na.suzohapp.com/products/monitors/49-2715-00
I made this video for someone when I first got mine:
https://www.youtube.com/watch?v=cgjVcbH9Pio
And, people are still dumping old SD CRT tv's with component video ports on curbs. If you're on a budget, a late model SD Trinitron with component makes a nice gaming monitor and larger screens make light gun and driving games more fun.
Appreciate the links.
The primary usage in my case would be retro games so nothing above 32-Bit and Dreamcast really. With Xbox, PS2 and Gamecube being a maybe.
Thank you very much for that Arcade monitor link now that I have a house some day I will build a cabinet to go inside my room.
FinalBaton wrote:
What's considered a "good" crt for gaming, is in the eye of the beholder and you'll get many different answers as you ask different people. Tastes affects everything here. some prefer consumer sets, other the BVMs, other shadowmasks arcade screens or TVs etc.

As fas as the pure technical-achievement aspect, if that's what your after : it's a mid-grade Sony PVM, so it's aperture grille based and thus has a grille that lets out a lot of light with ease, it doesn't have phosphors as nice as a BVM and doesnt have a pitch as fine as a BVM either (this set is 600 TVL and BVM is 900 - 1000). But super solid still. But sure is no BVM if that's the holygrail you're after

HAVING SAID THAT : my very personnal input (which may vary from others input) is that it's one of the best Sony PVM for gaming, as I really prefer the 600 TVL sets for retro games. that pitch is just more flattering for games IMO than 800 TVL and up.

but then again I love shadow mask sets too. but when looking for an aperture grill set? I definitely go for these 500-600 TVL-ish sets (PVM-20M2/1954 and familly/2030/top consumer sets of '80s to '90s, the latter two having more bloom which can be nice again depending on your tastes). To me they're the sweetspot.

I had a 1354Q which is the predecessor line and I thought it looked dynamite, almost too "tight" a picture for my taste. it was on the edge of what I find fun to game on, almost being too "sharp", but still made the cut. it was fun.


And I personally would never shell out that cash for one. you can find stuff like this locally for a still-hefty-but-more-reasonable price of $250. check out the CRT page on reddit. and also check the Craigslist in your vicinities.

ALso, if you're patient, you might find one for very little cash if you call around your local universities, hospital and broadcast/movie equipment rental studios. They are sometimes more than happy to get rid of their crt monitors

With even more patience you might find a low-tier pvm in your local craigslist/thrift for almost nothing. but there's no guarantee
Man you guys are really selling me on a BVM for a OG XBOX to Xbox 360. I do appreciate it's HD-SDI I will rule the day I ever run my 360 Mass Effect on there (even though I've moved onto PC with that game, the thought of running it in True Color, full HD on a classic CRT would be enticing)
I bought that exact model PVM btw. Was shipped today!
Classicgamer wrote:
Even among consumer grade tv's there is a large variation in pitch size. A lot of the late model CRTs had what they advertised as "super fine pitch". Great for squeezing extra detail out of analog film content but they present a similar problem to pro monitors, except without the benefits of amazing contrast and near perfect geometry. Plus some have issues with 100hz and other problematic processing. It's a mine field...
I've owned a lot of CRTs and It's very hard to find one that ticks all boxes. Vintage consoles all used different timings (shifting the image left and right) and arcade games used all manner of obscure resolutions. For this reason I place easy access to screen adjustments high on my list. I use them every time I switch game.
Most 15khz consoles output RGB as the best possible signal so I consider this a must. Using an RGB to component converter for every console is an option but not ideal.
Then there is all the non-15khz vintage games. I.e. All the EGA and VGA arcades plus 480p games on the PS2, Dreamcast and Xbox. Most CRT users have to compromise here which is hard. The main reason to still use a CRT is for games to look and feel correct.
I tend to favor tri-sync arcade monitors because they require the least amount of compromise. They are still available new. They accept both .7v and 3-5v Rgb with any refresh from 40hz to 70hz. Screen adjustments are on quick analog pots up front, They have nice large screens with around 600 tvl and you can play every game in native res. For me, having to build my own case was the lesser of all evils.
You can still see scanlines on arcade monitors if you look close on 240p games but they look natural and authentic instead of like half the image is missing.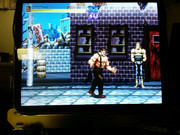 While some will say EGA doesn't matter as it's so few games, it includes a lot of classics:
https://blog.allyoucanarcade.com/the-de ... ion-games/
all of which look and play best at native res: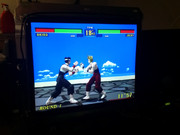 480p covers an even larger list of classics. While most flat screens will accept 31khz, games from that era usually look and play better on a CRT. Sega Rally on the PS3, for example, looks and plays noticeably better on my CRT than on my LCD.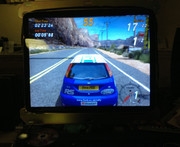 Before you choose, I recommend asking yourself one simple question. "am I the sort of person that puts up test patterns and then tuts at every geometry issue?". If the answer is "yes", buy a pro RGB monitor. If not, a TV or arcade monitor is the way to go.
Yeahhh easy access to screen adjust (service mode), wish the makers of Emerson thought of that when they were making a certain CRT passed down from my father in the backroom. I love the TV to death but my 3DO games are shifted too far-right. Then when I try to access frequency shift alla service mode via the remote all I get is sleep mode. HUGE turn-off. The instructions seems to give conflicting info. Luckily I checked the Sony PVM I'm getting and it looks like it will allow me to remote into the service mode and adjust the horizontal frequency should I run into that issue again with that model.
I did ask about the Emerson a while ago but couldn't figure it out.