MarkOZLAD wrote:
Does this service manual match?
https://elektrotanya.com/sharp_32r-s50_ ... nload.html
If you google "IX3253CE equivalent" you'd see that it is a clone of the TA1268N chip.
Your plans for the mod are quite a bit off, this TV can be easily modded with an OSD/External RGB Mux (sorry Syntax) with at most a single point switch required.
A tip for working out the appropriate blanking voltage, the Micro controller is sending a 5V blanking pulse through a 6.8KOhm resistor and then has a 3.3KOhm to ground. This creates a voltage divider that we can calculate the resultant voltage of...
5v * 3.3/( 3.3+6.8 ) = 1.63V
Another cheat to blank it for RGB, all you need to do is send 5V to the leg of the 6.8KOhm resistor that is closest to the micro controller and the built in voltage divider will do the work for you. Attach a switch to the 5V line and the blanking circuit is done.
MaRkOZLAD - Thank you for the clarification, and the chip equivalent (TA1268N)!
Yesterday I got anxious, traced the BLK to the micro-controller and realized the voltage divider (resistor and V drop) but at that time I couldn't read the 5V output from the micro-controller. But your info checks with my assumptions.
To bad I have already solder 8 wires (4) from the chip pins and (4) from the board that I plan to connect with the switch.
I didn't know that I could have just left the rgb IN signal in parallel using the OSD/External RGB Mux with the BLK (ON/OFF) doing the trick. I wish I had asked for help a few days earlier.
For now i am waiting for the VGA connector and plan to complete the mod next week.
thanks again
---------
Updating my results after installing my VGA connector and trying to play my Dreamcast here my results:
DC PAL(left) & DC NTSC (right)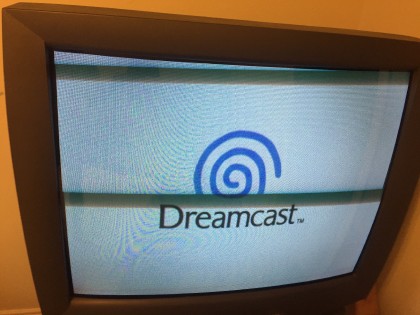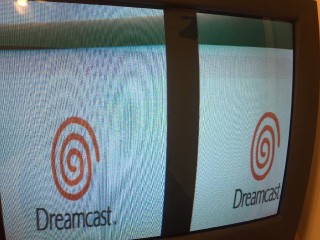 I am not sure why the screen is not synched properly, my VGA (PIN 13) is tighten on the board with the Video component. the problem is a persistent picture wobble/interference...
I have 75 ohm resistor on each rgb leg to gnd and a 0.1uF to the osd chip.
When I flip the switch back to component everything is fine. could it be an external/internal signal doing interference ?