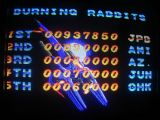 Perikles - 937,850 - Charotte - ALL
I surrender. I tried really hard to get a NMNB whilst scoring well, but the game scornfully laughed at me as a result. There's no other 16-bit shooter that is as versed as Sapphire is in subtly signifying: "Go play
CORYOON
, you
SCRUB
!" I must've died to every single enemy in the game over the course of the last few days.
Anyway, this is a 1LC with some decent scoring for the first two stages as well as parts of stages 3 & 4, so it's not
that terrible
, I suppose. I am, however, very proud of myself that I bombed during the high-speed section in stage 4, I always die there for some reason, and I would've crashed into one pillar again if not for one good bomb. Used way too many bombs on the final boss, ending the game with only one left, but I was scared.
I can now say with certainty that this is objectively speaking
the best
16-bit shooter out there. It's not even close. There's so much room for improvement as far as scoring is concerned, and not a single dull moment throughout. I still prefer a few contemporaries like Undeadline and BioMetal for their style and more straightforward design, Sapphire cannot be praised enough nonetheless.
Can't wait to see Kollision's score, and I hope that BIL plays it one day, too - game needs your extraordinary penmanship!
And what about you, Kino? Are you going to strive for a higher score?
I'll play some Cotton Original now, need some relaxation after that one!