Stage Strategies
Stage 1: Open Field
A nice simple stage, with a surprising amount of scoring opportunities. There are a few enemies that give decent bonuses.
Tank/Rider 2,000 each
The tank ride at the beginning and its rider (who pops out after you destroy the machine) are both worth 2,000. I suggest weakening the tank with three lvl. 1 pies, then use your Ice beam to kill it with a decent multiplier for 10,000k. If you don't accidentally kill the rider at the same time, he'll run forward and pose between two statues. Let the yellow flyers fill the screen for a while, then bomb at the last second to kill everything and hit a ~12x multiplier on the posing rider (24,000, plus the other enemies and the gems that drop).
Panda 2,000
Pandas need to be weakened just a little bit before a Potato bomb will kill them. They're not always worth it, but if you can get a decent multiplier, why not?
Gumball machine 10,000
It's a little difficult to pull off, but if you can bring this thing close to death and bomb when the swarm of small enemies is just coming on screen, you can get a really good multiplier on the Gumball machine's 10,000.
Popcorn Ship 5,000
This shows up just after the crying swing ride. If you let him live long enough, he'll swell up and explode destructible popcorn across the screen. His projectiles don't give points, but he's worth a bundle if you know how to handle him.
Hit him with two full Lvl. 4 Ice beams, and bomb when the swarm of hats has built up for a x16. It's worth bombing again soon after, to collect the gems and take advantage of the popcorns that keep coming.
Carriers (x2) 5,000 each
Near the end of the stage, two ships appear that will launch enemies in to big bowl below. They're worth 5,000 each, and the enemies they toss out help establish a decent multiplier.
BOSS Balloon Dinosaur
The first boss has the lowest scoring potential of all of them, but it's very easy to score on. Hit the boss with 13 pies while he's standing still, and add a bit of Potato fire. At the end of his attack pattern four small enemies will fly out; if you can kill them and the boss with one bomb you'll walk away with 250,000 points. If he doesn't die on the first bomb, the boss will repeat his patterns several times and more enemies will fly out.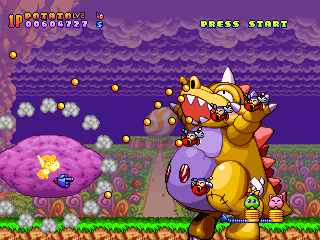 Stage 2: Horror House
Stage 2 has some of the game's neatest set pieces - the doomed wedding and demon jaws are instantly memorable. Sadly it falls a bit short in the scoring department, with few high-value enemies accompanied by weaker popcorn enemies to build a multiplier with.
Large Ghosts 5,000
Three of these pop up in the early section of stage 2; the last two are worth trying to score on. Right before they appear, there will be a power up item - switch to the Pie weapon and grab it. Hit each ghost with three Lvl. 2 Pies, and bomb the smaller ghosts around them.
Hooded Magician 5,000
Three of these appear in the middle of the stage; one will spawn near a group of weak enemies. Weaken the magician, then toss a bomb right before she goes off stage.
Invincible Ghosts 2,000 each
Right before the midboss, you'll fly through a corridor with stained six glass windows and a demon jaw floating before you. Two invincible ghosts will break through each window and follow you, keep them in a pack until the fourth window. When the ghosts break through the fourth window fly through the jaws, drawing your pursuers into them just as they clamp down. Only 8 ghosts will follow you at a time; at the fifth window they will start flying away. If draw 8 of them in at once, you'll get almost 200,00 points.
Heart Midboss 10,000
Situate yourself right above the crying man, and start throwing Lvl. 1 Pies at the Heart. When it starts flashing red switch to the Potato weapon, back up a bit, and throw out a bomb every time the screen fills up with small hearts. You'll have time for three bombs before the midboss runs away; you can hit the max multiplier on the small hearts (and spawn plenty of gems) with the midboss falling on the third.
If you're not comfortable throwing out that many bombs, try to do a little extra damage up front and kill the midboss with your first bomb.
BOSS - Pumpkin Goblin
The stage 2 boss is extremely difficult to score on. He spawns only 6 destructable objects (slowly and gradually), and all of them take more than one bomb to kill - it's very possible to run through the whole fight and have the boss succumb to the bomb before anything else, giving you no multiplier at all.
He will spawn two flowers at the beginning, which will shoot at you throughout the fight. After that, he will throw the pumpkin on his head at you, which will bounce around the room until you kill it. He will throw a total of four pumpkins, all of which can be on screen at once if you leave them alive. The difficulty of avoiding the boss, his flowers, and a large group of giant pumpkins is probably more than it's worth. If you want to get
something
out of the fight, kill one flower, hit the boss with 13 Lvl. 1 pies, and finish the boss off when there are one or two pumpkins on screen. 150,000 is better than 50,000.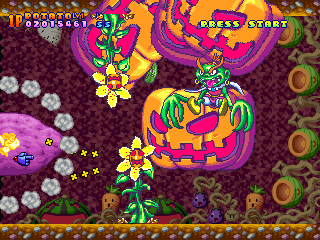 Stage 3: Animal Zone
Stage 3 is a little bland from a design perspective, but there are a lot of opportunities to score here. Many enemies here have a base value of 10,000, and are accompanied by enough small enemies to make throwing a bomb worth your while.
Panda 10,000
Unlike other pandas, Stage 3's bears are worth 10,000 each. The catch - they're both placed so that they'll fall off screen very soon after you hit them. To effectively kill them with a bomb, throw the bomb, and shoot them a few times before it explodes. The explosion should come soon enough to finish them off before they escape.
Ape 10,000
8 pies, hit the first two bulls with a pie and bomb them+the birds to finish the ape???
Alligator 10,000
After the train enters the tunnel, it will be eaten by an alligator. Soften him up with a bit of Potato fire then bomb while the popcorns are still on screen.
Dogcopter 10,000
It's rarely this easy. Hit him with five Lvl. 1 Pies, then back off for a while. He'll start dropping guys into the sea, but don't strike yet - a group of flying animals comes on screen that will make a x16 easy. Might want to have another bomb or two on hand; a lot of gems will spawn from this along with another set of enemies who will get in the way (and who can be a great source of points/gems as well).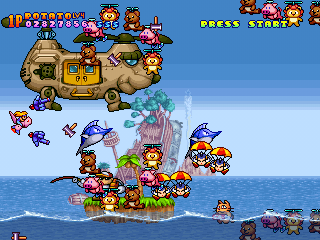 Turtle Island 10,000
At the end of the stage a turtle will appear and spin around the top of the screen before showering everything below him with bullets. He's tough to damage enough to kill at the right time, but he spawns near a few lobsters that spit destructible bubbles that provide a great multiplier.
BOSS: Whale
He may look boring, but guy will give your first taste of what bosses can do for you. He starts the fight by spitting a bunch of garbage at you, which is easily avoided by just hiding underneath him. Next, he'll jump in the air, and pause to spit eight small enemies into the water. When he pauses to release the enemies, throw seven Lvl. 1 Pies before he jumps back in the water. Repeat this pattern one more time, for a total of 14 pies thrown. Deal a little bit of extra damage with your Potato gun, but don't go overboard.
The next time he spawns the enemies, throw out a bomb and hope he dies. If it doesn't work the first time, try once more - he will only run through his cycle four times before timing out. If you're able to pull this off, you'll be rewarded with a x9 multiplier for 450,000 points - that's practically an extend!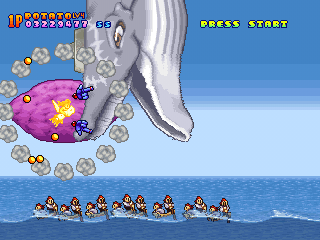 Stage 4: Coaster World
Here we go. It's not hard to pull 3 mil from this stage alone; high-value enemies are plentiful, and in the later half swarms of popcorn enemies will flood the screen with gems if you bomb intelligently. And the boss is the single largest source of points in the game.
Battleship 20,000
There are four of these guys in the stage. They take 2 Lvl. 1 Pies and a little bit of Ice beam, and a bomb will finish the job. The first two you encounter only show up with 4 or 5 small enemies, but with a base value of 20,000 that's enough.
At the end of the level, two of them appear together. It's harder to weaken them enough to kill with one bomb while not killing them, but there's enough small enemies around to hit x16 on both of them.
Face: 30,000 Body, 5,000 "Hair", Mouth 5,000
Midway through the level, you'll be ambushed by a much larger battleship - with a
face
. Throw a Pie at its hair, one at his mouth, and nine at his body. Once he flashes red, stop attacking. Some yellow enemies will be flying by, but wait until the ship starts launching missiles to throw out a bomb. This should finish the mouth and maybe his hair with a multiplier around x10 or so; wait for the screen to fill up again and throw another bomb to destroy the body. It's not too tough to get a x16 on this guy, which will earn you an extend and then some with all the other enemies that go down with him.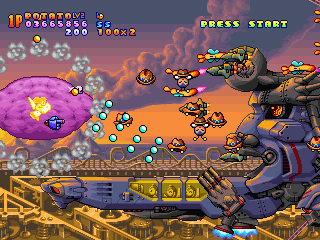 BOSS Hot Babe maybe
If you thought the stage 3 boss was exciting, get ready for this - the stage 4 boss will give up a x16 quite easily. Hit her with 11 Lvl. 1 Pies. She can take two or three bombs after this, so if you want to conserve your specials weaken her up with some Potato fire. When you're ready, wait for the flowers to come out and throw out a bomb. Between the enemies and the flowers there's more than enough to give you x16 before the boss blows.
Additionally, every time you bomb the storm of flowers, you can score around 45,000 in enemy and gem points. A million points from this boss is simple if you are willing to spend some time and bombs on her. Hit her with 10 pies instead of 11, and bomb every time the flowers come out.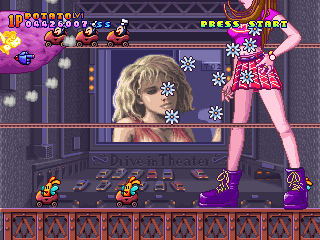 Stage 5: Ray Night Parade
Gorgeous stage. At first look it seems a little sparse on the scoring side, but there are a couple of nice swarms of easy kills, and the second half has a bunch of enemies worth over 10,000.
Horse 20,000
Just before the ship, there's a wooden horse that's being pulled by a small enemy. Be careful not to kill the little guy - if he dies the horse won't move into the right position and you'll limit your scoring potential. Hit it with four Pies (on the body, the head is invincible) and soften it up with a little extra potato fire, then stop. Leave it alive until it's almost off screen - a group of flying animals will spawn when the ship comes into view, bomb them and you can x16 the horse. There's also two cannons worth 10,000 in the same area - try to kill them at the same time.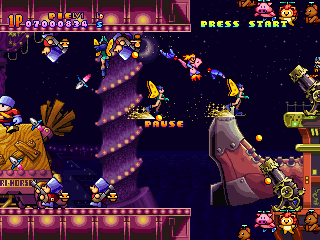 Cannons 10,000
Cannons begin to show up on the ship; each is worth 10,000 on its own and they're all surrounded by smaller enemies. Throw one Lvl. 1 Pie at them, then wait for the right moment to drop the bomb.
BOSS The King
Like the stage 2 boss, all of the enemies that accompany the king won't succumb immediately to a bomb, so it's very easy to accidentally kill the boss first and get nothing for your efforts.
The king will spawn two archers, and replace them if you kill one. Focus on slamming him with pies, but stop throwing when he starts flashing red. Soften him just a little with your potato gun. Eventually he'll spawn six toy soldiers in the lower right corner - plant a bomb on top of them and they should die before the boss. If you're lucky, you'll kill all the soldiers then the boss, for a x7 multiplier on the boss. (you can try to kill the archers at the same time for x9 - good luck with that) If you're not lucky, the boss will probably just die.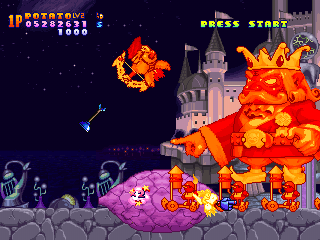 Stage 6: Central Castle
Coming soon! There are plenty of high value enemies in stage 6, but they're generally a little more difficult to take advantage of. Still, I'm sure pulling 2 million out of stage 6 wouldn't be hard with a little discipline.