Arcade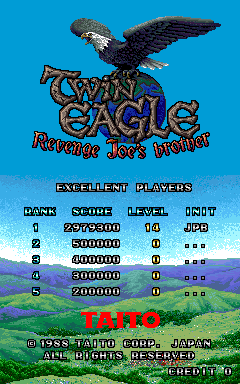 Perikles - 2,979,300 (ALL) - 14 - ON
Video
Aw yeah, not only exacted revenge for Joe's brother, but managed to beat the game without dying whilst getting a satisfying score. I knew those Dimension Force skills would get in handy one day!
I'm pretty sure the WR can be achieved on the default setting (which is Hard for this game and Meta Fox whereas Arbalester is set to Easy for some reason - I wonder if the latter is supposed to be on this difficulty?) - you'll need a ton of luck just like you do for survival, it is feasible, though. I got a colossal 73 (!) jets in the chase sequence of stage 5, other times you might only get 30. I also read that there's a sort of perfect bonus for destroying all of them, never managed to do that myself, though. And you can milk the final "boss" for a while, too, don't know when he times out (I didn't do it in this run), a few thousand points can definitely be had this way.
I've put general survival info in the video description, one thing I want to point out expressis verbis: I don't think it's a good idea to ever use autofire in order to increase the rank. I've played with a rate of 7.5Hz which works just great to keep the rank low, 10Hz might be fine, too, 15Hz and more will definitely result in insane difficulty spikes. Just look how easily you can take out the boats in stage 5 at low rank, they're a veritable nightmare when the difficulty is all the way up, ceaselessly shooting from the moment they come on-screen. I suppose you get a lot of slowdown since that's how this magnificent game works, but I wouldn't recommend doing it, anyway.