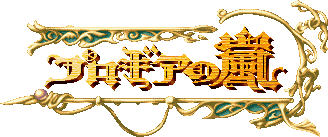 Storm of Progear (Progear no Arashi/Storm of Progia)

Capcom/Cave 2001


Chief Programmer/Designer: Tsuneki Ikeda


Art Director:

Junya Inoue


Producer:

Tatsuya Minami
Japanese Version Reviewed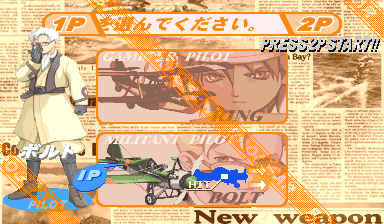 W
hen we think of Cave,
we think vertically. We think of ploughing uphill, battling through cascading bullets that engulf the player craft in a luminescent maelstrom.
Storm of Progear is a unique entry in Tsuneki Ikeda's gaming gamut in that it represents the first attempt to introduce a horizontal shooter to the portfolio, and as such it still feels like the black sheep amongst his more commonly recognised work.
Originally intended to be vertical, Ikeda tested the horizontal format to distinguish it from other war based shooting games and found success.
Set in a fantasy land amidst a political war, Cave's art director Junya Inoue and his team drew on the works of Hayao Miyazaki, evident in the rich colour palette of watery emerald greens and rusty copper oranges. The enemy - an army of tanks, biplanes and flying fortresses – are somewhere between World War two Europe and Nausicaa: Valley of the wind.
It was Capcom who approached Cave to develop a game under Tatsuya Minami (who had also produced Great Mahou Daisakusen with Raizing the year prior.)
Capcom specifically requested a shooter aimed at the Asian market, resulting in traditional Anime character designs and greasy steam powered machinery. With a terrific opening, smart intermission screens and multiple endings, it's one of Cave's most presentation heavy efforts.
Although working with a company as prestigious as Capcom was a boon, it wasn't without its difficulties. Ikeda and his staff struggled with the CPS2 hardware's graphic editor and Inoue felt the pressure when Capcom, unhappy with his initial character designs, requested them redrawn with the aid of their own staff.
Anyone who tells you the game is about anything except scoring really doesn't know Progear. Sure, it's possible to wade in and blast away, using a combination of pilot and gunner to powerful effect, but scoring is so interwoven with survival it's integral to playing a good game.
Progear features Cave's traditional dual fire mechanic: tap for a fast, wide shot, or hold the button down to concentrate a powerful stream.
By tapping the fire button, enemy bullets caught in the explosions of nearby craft are converted to shiny metal medals. Shoot enough (or catch a large swarm at once) and the value of the counter in the bottom left corner increases. When it's high enough, stop tapping and hold down the fire button instead to have all the bullets converted to valuable gems.
This is the economy of the game. It's about finding sweet spots; moments to rack up the gem counter and then cash in, cancelling the on-screen bullets to save yourself from imminent death. This forces points hungry players to seesaw between allowing the screen to fill suicidally with enemy fire, and switching shot types at the last moment to clean up in a gem-rush.
Progear is considerably tough. Although the learning curve is carefully layered, completing both loops of the game can take years to master. Bosses sport a dizzying array of attack patterns – far more than most games – and leave you with your heart in your mouth until they finally go up in flames. No two games are ever quite the same either, with bullets roaming along odd trajectories and a punishing rank system. Perhaps this is the reason that Progear is not adopted as readily as Cave's other titles. As Ikeda rightly pointed out in an interview, "Those places where you can just make it through in a vertical just aren't there in horizontal. In horizontal you think, "maybe I can make it!" then BOOM!"
To combat this, Ikeda takes full advantage of the screen's horizontal space, with even mid-sized enemies spewing incredible artillery floods. The balance is achieved by the behaviour of their patterns. The bullets are arcing, multiplying affairs, set so they often fall from above or rise from below: and this is what makes the horizontal danmaku possible. The result is a heroic blitz that's challenging, unique, and as satisfying as it can be frustrating.
Although scoring is the centrifugal element, the storyline, characters and the world they inhabit feel whole. By the time you've torn your way through levels filled with gunships, underwater submarines and various aircraft, you'll feel the distance on the final approach to Volvox's stage five lair.
It's a game with an experimental feel about it, but accomplished nonetheless; and, bar 2007's Death Smiles, it was the only Cave game of its kind for a long time. Its uniqueness and beautifully versatile scoring system make it stand tall as one of the most epic and satisfying horizontal shoot-em-up experiences to date.
You can't help but think that if Cave made movies, they'd probably look something like this.
Nine out of Ten
Sources of information and many thanks to:
Gamengai.com
Arcade-history.com
Score challenge:
Beat the authors high score!
14,786,130
How's my reviewing?
Drop me a PM and let me know!
Want to try the game out for yourself?:
Progear is most easily played and enjoyed on MAME
Want to learn more about Progear?
There is a wealth of information available at http://www.Gamengai.com, in the Omake/Translation section. Get over there!