IKARUGA
Published By:
Treasure
Year:
2001
Executive Producer:
Masato Maegawa
Lead project designer:
Hiroshi Iuchi
I
In 1998 Radiant Silvergun single handedly re-invigorated the shoot-em-up genre. Epic in scale, graphically superb and devillishly designed, it cemented itself as one of Treasure's most accomplished efforts.
Three years later, dubbed 'Project RS2', Ikaruga was rumoured, realised, and released with much interest from not only the underground scene but the commercial markets too. In true Treasure fashion, Ikaruga (despite being a particularly long production) arrived as a swan song for the ailing Dreamcast. History appeared to be repeating one generation on, with another Sega console in its death-throes, and another beautiful shoot-em-up from the industry's self-proclaimed pioneer.
Fans of Radiant Silvergun will find, on the surface at least, Ikaruga appears to tread familiar ground. From the get go, a number of subtle (and ultimately superficial) hallmarks have been retained.
It's a 2D vertical scrolling shoot-em-up in the classic sense, and paced similarly to its predecessor. Ikaruga is not a bombastic danmaku, rather, the action is slow and even tempered.
The feel is where the similarity ends. What's actually changed, is a lot.
Opting for pure simplicity, Treasure have scrapped multiple weapons, power-ups and ship upgrades, leaving only a standard gun available throughout.
The real onus, and central to the gameplay, is the ability to switch the ship's polarity, allowing it to change shade between black and white at the press of a button. Similarly, enemies come in the same two flavours – some white, some black.
This affects gameplay in a variety of ways. When the player ship is in black mode, its fire will deal more damage to white enemies, and vise-versa.
On the other side of the coin, having the ship in white polarity and being caught by reverse enemy fire means instant death.
However if you're matching the colour of the enemy fire, your ship is invulnerable, absorbing the bullets to charge a bar which can be used to unleash a special attack.
Ikaruga's innovative design feature in full force. This simple situation is a good example of how you're tested throughout the game, with increasingly more complex and difficult situations.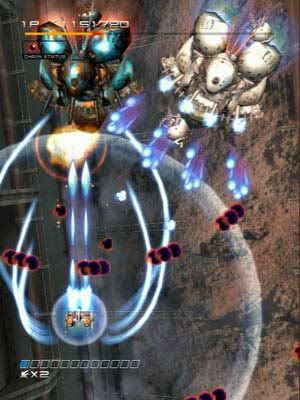 Depending on your disposition, this may all sound incredibly straightforward or unnervingly complex. Although Radiant Silvergun was something of a marmite game, it's as if Treasure went out of their way to create a piece of work that would really divide opinion.
While their thirst for originality is never in dispute, it wouldn't be the first time people had questioned their judgement. In this case, rightly so: Ikaruga is extremely innovative, and with that comes a certain amount of risk.
Visually, the game has beautiful design work throughout, but lacks the richness and grit of Radiant's space opera setting. The rusted lunar platforms and futuristic forestry are replaced here with a brighter, whiter game. The creativity of the locations doesn't vary enough to give each level much graphical character or uniqueness.
This, encompassed with a religious undertone that presents itself in various sub-headings throughout, makes Ikaruga a stylistic but bleak experience.
Graphics aside, it's the ambitiousness of the black and white mechanic that sets the game apart.
In Ikaruga, the two polarities become a state of mind. For a long time, it's a case of training your brain to understand when it's time to switch colours, when it's time to absorb bullets, and when it's time to fire.
These bullets fan out in circular patterns and interweave. Often, it's easier not to shoot anything, and just focus on polarity switching to get through unscathed. If this seems daunting, keep in mind that enemies shed coloured suicide bullets even on normal difficulty, and that the situation below is only from stage two: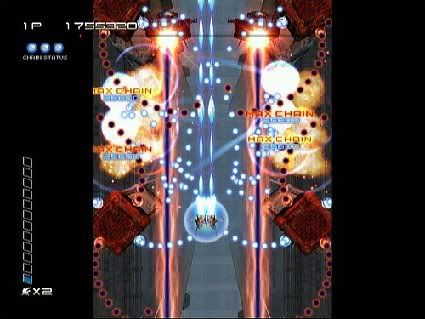 Unfortunately, by relying solely on this mechanic, Ikaruga falters; maybe not so much as a game, but certainly as a shoot-em-up.
Prominently, Ikaruga is about methodical, mechanical play.
To best the game and reap rewards in terms of score means taking each section step by step. The freedom to create is limited – in Ikaruga there is only one 'best' way of doing things, and it takes discipline to break down the level structure. Let it be known then, that discovering the path to success can be a laborious process.
The game itself is particularly short (especially considering the length of Silvergun), and while the first three levels pose a fair challenge, it's as though Treasure decided to increase Ikaruga's longevity by introducing a difficulty spike so alarming, it's in danger of ostracizing a fair portion the shoot-em-up demographic.
From stage four onward, the difficulty climbs so high that it's utterly futile to do anything except play and re-play ad-infinitum until the correct method is revealed. While many would argue that the foundation of all games (shoot-em-up's particularly) rely on trial and error, Ikaruga pushes this to a level which has only served to detract from the fun of the learning experience.
The option to practice individual stages is welcome, and completely invaluable for anyone who wishes to master the game.
The attempt at depth through simplicity pays off to a degree, but in turn it casts Ikaruga as a bizarre hybrid of shoot-em-up and puzzle game, and it doesn't sit comfortably in either category.
Experimental and bold, it's a highly artistic exercise that ticks many boxes, but fails to deliver on its initial promise.
Aesthetically and aurally, there is little to complain about. Some may even prefer the washed-out beauty of Treasure's follow up, and the more sombre (yet dramatic) score.
However, the reliance on one fundamental play mechanic has surfaced as a limitation - not in game design, but as a game for the masses; commercial and underground alike.
There are shoot-em-up fans who will no doubt relish the challenge, and depending on their demeanour, there is certainly a highly rewarding experience to be had. For those people, committing themselves to many months of play to finish the game, and then many more months to learn the scoring patterns, will be every bit worth it.
For everyone else, there is little actual 'action' compared to the average shoot-em-up; little freedom in play, and a strict, sometimes thankless path to success. And it's here that opinions will be divided.
In summary, what's there is not altogether bad. On the contrary, it is a game like no other: daring in concept and design, and at least, for what it's worth, highly original.
The problem arises only when what's original then gets old, and far more quickly than you'd like.
The sum not being quite as mighty as the ambition
Seven out of Ten
Skykid 2008
A quick note:
To Afterbirth, apologies for posting this review so close to your own - I had been working on it for a few days prior and felt, due to the differences of opinion, it was still worth submitting.
Sources of information and many thanks to:

Wikipedia.comHow's my reviewing?
Drop me a PM and let me know!
Want to try the game out for yourself?:
Ikaruga is now available to download on XBOX LIVE