So on one of my attempts to finish Space Bomber, I ended up discovering something completely on accident on 3-1. After wiping out all of the big-lipped things except for one, I started shooting at one for a meager 2000 points...
but was quite surprised to see my shots getting stopped in mid-air. Kept shooting and...
Hey look, it's Kashon from Sol Divide! Where'd he come from?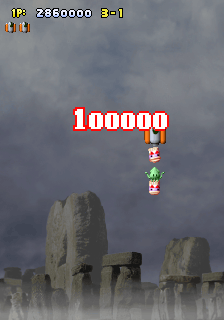 Picking him up awards an extra 100k.
Try as I might, I could never get him to appear again. There may have been something I did that triggered it, such as moving above the line of bullets that that enemy fired at me, but I can't reproduce this trick for the life of me. While one 100k bonus isn't exactly the most major thing in the world, it would still be nice to know how to get it, and it makes me wonder if there are any more of these secrets in any of the other levels.
I kept the MAME .inp of this oddity, it can be viewed
here
. It requires WolfMAME 0.106 to playback. (Just ignore everything that happens after 3-1, since I completely space out and die on the 3-4 boss and stop trying after that)