I assume you mean the spam of ships on the start. Basically, you can either:
a. Bomb as soon as the first column of ships starts to appear if you managed to carry any over
b. Start from the middle, work your way to a side, press against the wall and up at the same time and shoot right when the "wall" row of ships will appear and sneak past the rest.
EDIT:
Just had a pretty good run here:
<--- score at the end of loop 1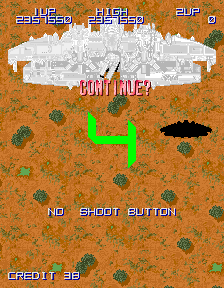 <--- asshole boss a.k.a. TLB, and shout-outs to the massive rage credits in the corner. I will take a snapshot later of what it looks like mid-battle in 2-8 later on.
2-8 1st boss is the TLB I don't care how much of a badass you are, you are not going to beat this fucker in the loop unless you suicide to drop rank or have 2 bombs and can still dodge despite your dragon laser covering the boss. I had absolutely no luck in getting a 1up to appear which really sucks.
I think that getting to 2.98M is a test in luck and patience since I realized that it is possible to get 1ups wherever blue 1000 point ship groups can appear, and can get 1ups repeatedly if you keep dropping to your last life.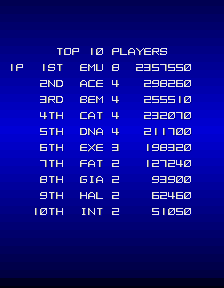 Emuser - 2,357,550 - 2-8 - Autofire - Mame
I still need to experiment and now need to figure out if it is indeed possible to get lucky enough to get repeated 1ups in the 2nd loop and abuse it to get some good points somewhere.