Yes, you heard that right: A walkthrough for newbs telling you how to not die once!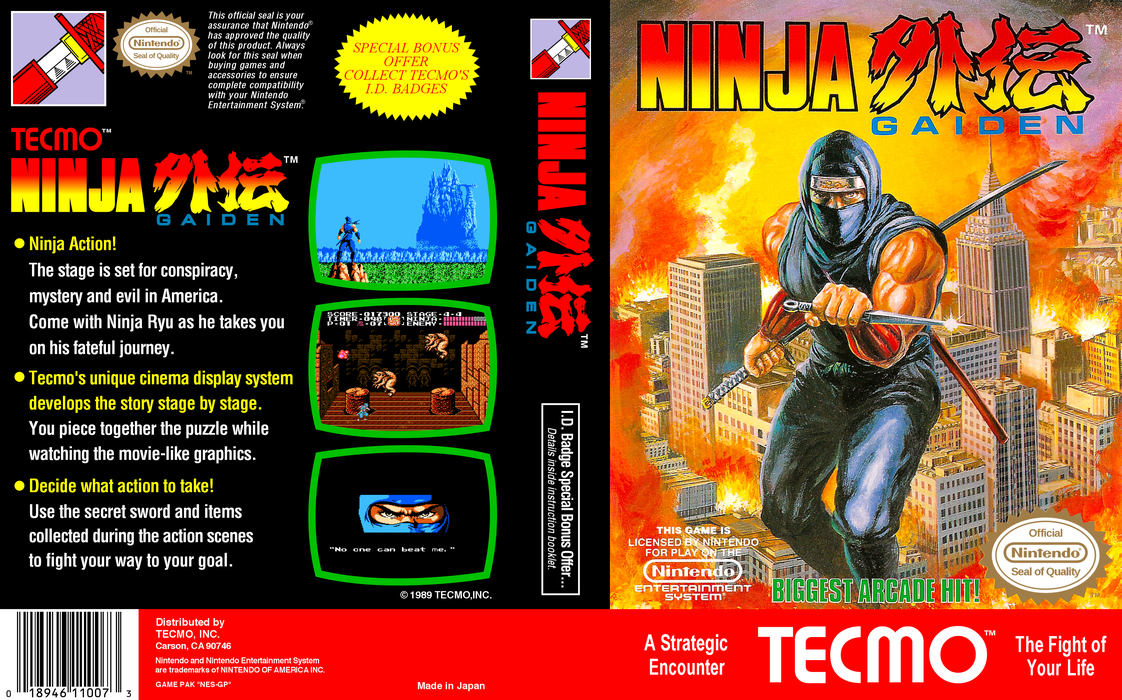 Ninja Gaiden is not a series that needs any introduction. You've heard it all: "Fast-paced action, cinematic cutscenes that pushed the envelope, fun as H.F.I.L., and also one of the hardest games you'll ever play".
Me, I love it just for how
interesting
it is. If you play it like I do (slow and methodical), then each Act becomes an interesting puzzle. You'll never beat them on your first try, but you
will
always feel like you learned something each time. If you want to
speedrun
it and feel like a god of war, you can ALSO do that. You'll die over and over, but the hero moves so fast, and kills enemies so quickly, that you feel like a veritable god when you DO clear a stage successfully!
And that's really what it all boils down to: You just
feel
strong. You move fast, you jump VERY high in the air, you've got an arsenal of sub-weapons, and you kill almost everything in one hit (save for bosses). Plus, you've got a game with a rockin' soundtrack, and unparalleled presentation. It's a hoot!
But enough about that; Let's talk about...
THE WALKTHROUGH:
Now, this here's the first time I've ever LPed a platformer. All my other LPs were focused on "how do I beat this game as fast as possible?", but that changes when you're not playing an RPG. There's a skill gap: One between me (who's used to the controls, knows where all the items are, how the bosses act, what everything does), and my audience (who still haven't mastered the controls).
My philosophy, then, is that a walkthrough should
bridge the skill gap as much as possible
. I am almost never going to tell you "this will take timing and reflexes, so git good", unless there really isn't any other way. That's the sign of a lazy walkthrough, to me.
So, whatever I show, it should require as little skill as possible. I WILL include "speedrun sections" for each Act, but only for demonstration purposes. The bulk of this is going to be slow, methodical gameplay that people will (hopefully) be able to imitate without too much practice. Some of the strats will seem a little cheap...
Now! Let's begin!

Ninja Gaiden NES: No Death Walkthrough for Beginners (Acts 1 & 2)
STRATS INTRODUCED THIS EPISODE:
JUMPING SLASH: This is what you should try practicing, when you can. It's not mandatory, and I try to avoid relying on it for the walkthrough, but it's the only way you can attacking without Ryu stopping.
PAUSE BUFFERING: This is where you hit Pause to… well, pause the game. The enemies may not hit hard, but they're fast, and there's a lot
of
them. Worst of all, the game will spam them near bottomless chasms, so beginners will need this trick (experts will have already memorized things).
WALL CLIMB BUFFERING: I forgot to mention it in the video itself, but you don't need to
press
A every time you want to jump off a wall. You can just hold it, then press Left or Right (whichever goes away from the wall). That will let you climb much faster!
SWORD CANCELING: This is where you hold Down while slashing. This has two uses, but the main one is conserving "Ninpo" (your ammunition). This way, you can preserve your…
SPIN SLASH: I keep calling it "the spinning buzz-saw", but this is the proper name. It does damage every frame (1/60th of a second), grants temporary invincibility, and attacks from all directions. This is the greatest sub-weapon, by far. It's what makes a "Deathless" play-through doable, even without memorization!
INTENTIONAL DEATHS: This won't be used in this Deathless playthrough, but it's a handy trick nonetheless. The game checkpoints you every screen, so you can just die and refill your health! You lose half your Ninpo though, and you get kicked back to the beginning of Acts ?-1, ?-2, or ?-3? (depending on where you're at).
SCREEN-SCROLLING: If you can't
see
the enemy, they don't exist! They disappear the
moment
they leave the screen… Some don't even respawn! So, you run away from them till the disappear. Primarily useful for flying bird enemies (they take 3 HP away!), but it also has applications for "Hammer Bros." enemies (the ones who stand over gaps and throw objects in arcs).
CHARACTERS SO FAR (Warning: The manual wasn't proof-read very carefully
):
https://lpix.org/3839711/Ninja%20Gaiden%20Gallery.png