Gradius II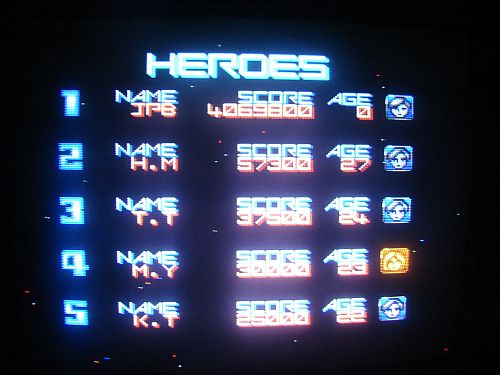 Perikles - 4,069,800 - 7-4 - Type 4/FF - PC Engine Duo-R
That shall be enough for now. It is certainly easier than the arcade version, but not enough to where I could get a counterstop with a high probability. Stage 4's nonsensical volcano checkpoints are still ludicrously difficult and I can only overcome them once during a blue moon with the assistance of several lives. So if I die in stage 3 due to an unfavourable constellation of indestructible blocks (which did happen in this run) or on the fourth stage itself there's a good chance I get a game over. At that rate I might as well try to improve my arcade score first.
Anyway, more technical details:
- Difficulty maxes out at loop 3. Regular enemies retaliate with two suicide bullets at most, bosses have their regular cloud of bullets.
- Checkpoint recoveries are for the most part significantly easier than in the arcade game. The first checkpoint inside the fortress on max difficulty is about as tough as the second loop recovery in the arcade game which means that I can reliably get past it, maybe after losing a couple of lives. This came in handy a few times, I certainly wouldn't have recovered this quickly (or at all) in the arcade game.
- Fire dragons are very fastidious when it comes to their spawning. You either are just in the right spot or miss out on several of them. They never overwhelm you like they do in the arcade port which is a shame.
- You get less zubs on the boss parade which are much more dangerous. This is bad not only because it makes the section harder, but also because you can't power up as much.
- I'm almost certain now you have to take on Club and his duckers in an aggressive manner. It can be done consistently, fortunately.
- I hate the off-screen sniping capabilities from moais in this port. You're just hugging the left side of the screen, aligning your options for some milking and all of a sudden you're wiped out because a salvo of ion rings hit you from behind.
Volcanoes can do that in a slightly different manner as well which is also highly aggravating.
- A lot of the quirkier traits from the arcade game are still intact. The odd hitboxes of the tiles in the fortress remain the same and your best bet when recovering on the moai boss is still to hide inside the nose of the lower specimen.
All in all, I'm very pleased with my recent Gradius progress. I think I cleared over 80 loops between all the games/ports (not counting different types, just the best result in each) and got four counterstops. It'll surely be great fun to improve some more!