EmperorIng wrote:
Nice arcade score!
Got something substantially better!
Twin Cobra, Arcade, Normal difficulty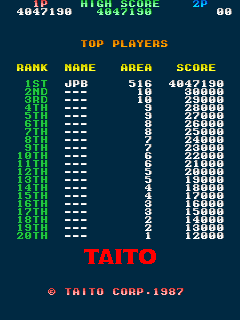 Perikles - 4,047,190 - 516 - Yes - 1P - Shmupmame v4.2
It's still not great, but I most certainly take it. I never can get through the first loop without dying, by no later than 1-8 I die a horrific death somewhere. I also have a nasty tendency to get myself killed in the most stupid ways in the first level of subsequent loops or when I finally manage to get a five-way spread shot. But I can't really complain, for every daft death there's at least one insanely lucky dodge in that run.
Will upload the video soon!
EmperorIng wrote:
[...] (another programming flub: being sent back to a previous checkpoint if you died right at the start of one).
I always thought that was by intention.
I used that to my advantage when playing the MD port of Tatsujin, some checkpoints are so tough in the final stage that I intentionally killed myself twice in rapid succession to start at a more lenient place. And since most of the other MD Toaplan games incorporate this system as well I was sure they put that in there for a specific reason.
Edit: finally got the run up:
https://www.youtube.com/watch?v=aFmcKSP4Kwc