vol.2 wrote:
Classicgamer wrote:

The adhesives made for outdoor advertising materials last longer in direct sun than most but people expect expensive TVs to last more than 4-7 years. Maybe this is one they are pitched as a "life-style piece". If they can't be used in windows then what else could they be aside from style over function.
Well, maybe I'm giving them too much credit, but I assumed this was at the root of current use-case scenarios for the tech. I've seen concepts advertised for the shower door to check the stock market and kitchen use to look at recipes online. That kind of stuff.
I've seen transparent lcd screens and clear projector screens advertised for years (in my digital signage business) but I have never seen a major outdoor facing implementation. It's one of those things people see as cool but ultimately impracticable.
The obvious potential use is window advertising but the reality is that clear screens are somewhere between hard and impossible to see in direct sunlight. So who would really buy one? They make even less sense for shop windows if they need to switch to opaque to use them.
Pitching it as a lifestyle piece is probably the only way they'd be able to sell them at the silly high prices they'll no doubt want. "it doesn't have to have a practical application or make sense, interior designers will mount them at the end of rich people's beds".
It's certainly not the first time someone has tried to sell clear TV screens. This image is well over 10 years old: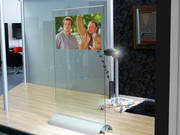 I've still never met anyone who uses one at home or at work though. I'm not sure using Oled tech changes it's real world desirability. We didn't buy clear lcd or projection TVs because they seem like a novelty product.