My RGB mod on Sony KV21SE40/8 using MarkOZLAD OSD Mux method
TV Model: Sony KV21SE40/8
Chassis: BA-4 (SCC-S04A-A)
Service Manual Link
Jungle chip is actually CXA2061S even though CXA2060AS is the one marked on the Service Manual.
Data sheet Link
All RGB mod pictures
I decided to start with this TV since if it didn't work or I messed up I didn't care.
Using MarkOZLAD
spreadsheet
the resistance values came up as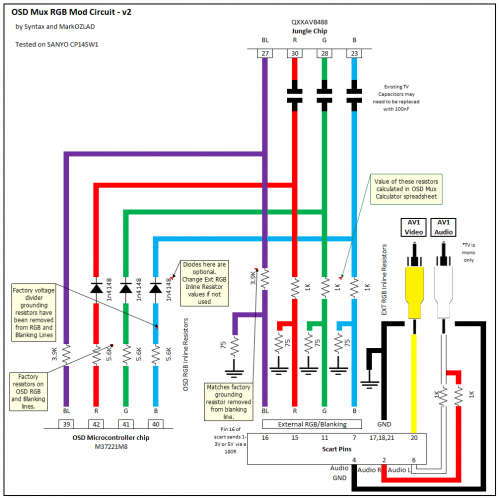 I was fortunate in that I could reuse the 5.6k Ohm resistor on the TV, however I was not able to reuse the 75 Ohm resistances since they were on the bottom of the board and SMD, so instead I lifted the 5.6k Ohm resistances and added a cable to complete the circuit to the Jungle chip, then used the same cable to connect my incoming signal using the 430 resistance, because of this I needed to add the 75 Ohm resistances to ground on the Scart connector.
For the Blanking I went with 8 Bit guy implementation with the 3 legs 2 way switch on the OSD IC output, more on this on MarkOZLAD explanation of the mod
here
.
I'm currently not using the 1k Ohm resistance on the audio lines, is working but would like your opinion on these regard.
Image of the TV PCB board with the mod in place, you can see where I tried to use the open RGB in on the jungle without success
Image of the TV PCB board bottom with the mod in place (notice my fix for a lifted trace...)
Side view of the mod
Audio and CSync connections
Main PCB after removing the back of the TV
The mod connector
Scart port internal
The output of the mod, RGB on the CRT TV