Here's the diagram I've made for my modding method where we share the OSD lines with the external RGB we are inserting. I've left the Ohm values empty on the diagram but it seems 330 Ohms on the inline resistors is a good start. Termination resistors maybe 510 - 620 Ohm but all of this is still to be determined on a set by set basis and requires trial and error by the modder. Seems sometimes the termination resistors aren't even required. My method is to get RGB showing something and then using a breadboard/pots to experiment and find the right combinations. For Sony Trinitrons I'd be throwing 75 Ohm in line and 75 Ohm termination to ground and seeing what happens.
As with anything on this forum, nothing is guaranteed and the person modding the set needs to have patience, determination and resourcefulness to complete the job.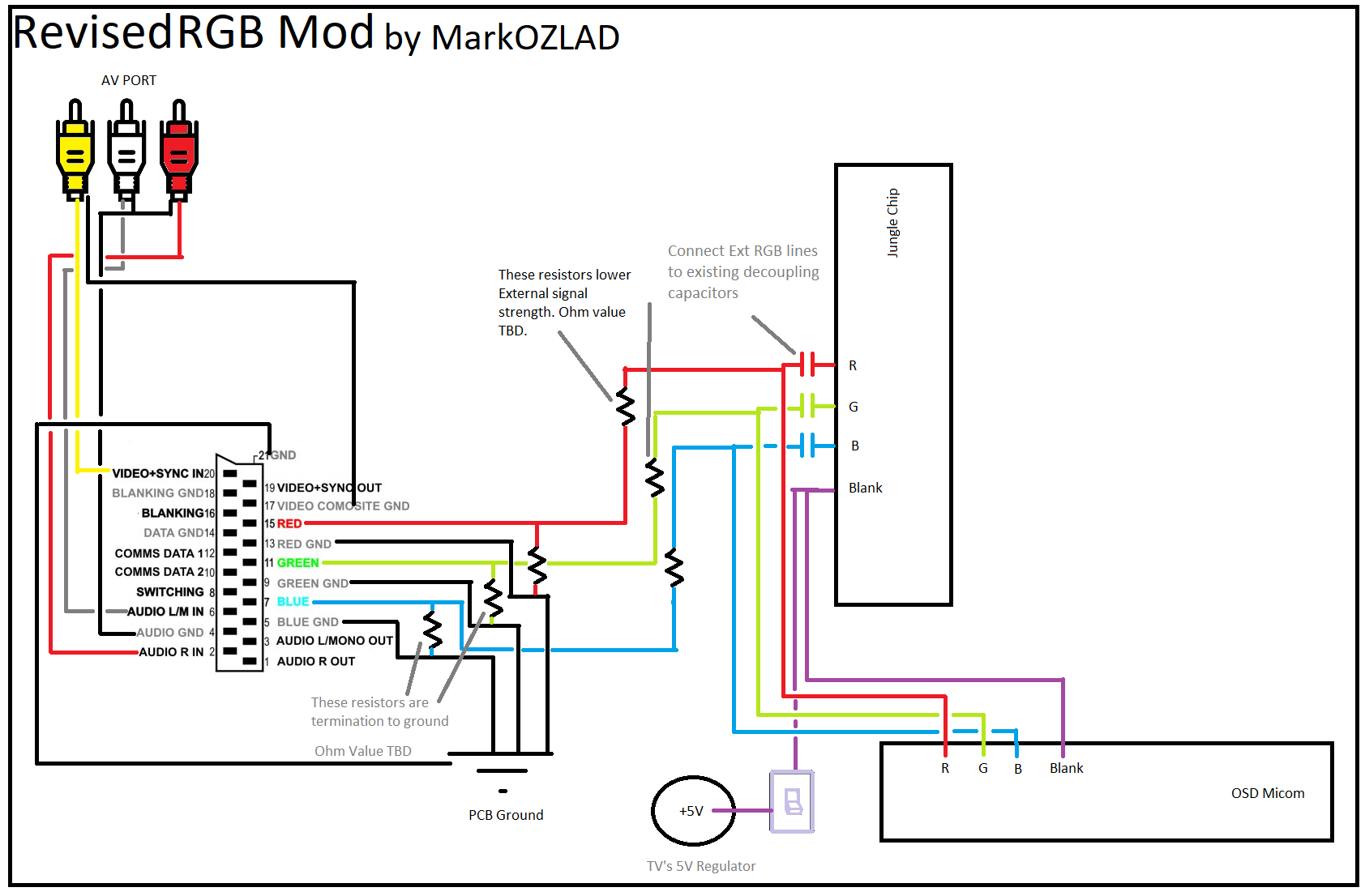 On the diagram I've shown blanking 5V coming from the internal 5V regulator but it could come from the Scart pin 16 blanking. Could build without a switch at all if you wanted. Also a 10K potentiometer on the blanking line, especially during testing, is a good idea to get the blanking voltages worked out.
Also for reference please read Syntax' posts for getting OSD and RGB working together. He uses a similar method but approaches it from the other end where he looks to beef up the OSD rather than toning down the external RGB. He's got great results on Sony sets......I'm pretty sure too that he's got an idea coming up that will blow this one into the weeds!
All constructive criticism welcome. Please post results of your work so we can make the method more prescriptive.
I hope this enables some people to get OSD working alongside the RGB.
oohh, almost forgot...
Big thankyou to 133Mhz on the RetroGames.cl forum for posting
this thread
about modding his NEX TV with generic Chinese chassis. Even though he did his with an OSD snip method his work coming up with the correct impedance for his set enabled me to progress my current mod and come up with this method. I'd be willing to bet that 133Mhz is better by miles than I am at this caper.
Another note.....
Typically when I mod I don't run lines directly to decoupling capacitors. I'm normally lucky enough to find external RGB inputs on the sets I've encountered. Before you try and solder to capacitors, try inspecting your TVs chassis for these inputs. They are often found as un-populated/unused headers/connectors nearby to the jungle IC. Sometimes these aren't even shown on the schematcis e.g.
Connectors 1801 and 1802 I recently identified on a Sony AA-2D chassis
. Check out the unused ports on your TV chassis visually and with the multimeter, if they connect to the decoupling capacitors for the Jungle's RGB pins you are in business.
Hi, can you help me to find those connectors 1801 and 1802 on A-2D chassis? the capacitors on this chassis are too little to soldering. thanks