So I've been trying to do the Gunbird train trick, I can now get it to appear consistently. In fact I've figured out one little thing which may not be well known: you don't need to sit on the correct tree for a second or whatever amount of time,
you just need to be on the right tree at the right time
. The building with the trees around it has 2 trees on the bottom and 3 on the top, it's JUST after the 3rd/top tree is fully on-screen, you need to be sitting on top of the correct tree at that time (this coincides with the time that the train sound plays), see this pic: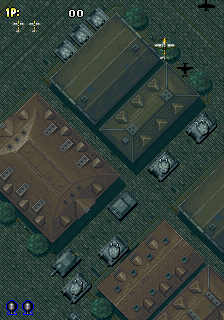 When that top tree is on fully on-screen with a small gap at the top, that's the perfect timing.
Now I could do with some tips here:
- If you're using BF-109, can you destroy ANYTHING before the train appears? Unless it's stage 1, your options destroy stuff behind you, I don't see how it's possible.
- Any tips for actually destroying the train? On stage 1 I have no powerups, I don't think I can do it without bombing (in fact I tend to bomb it regardless of stage right now
)
Also: is there some weirdness with scoring in the loop? I cleared the 1st loop with just under 800k, died very early on 2-1 but did get over 800k, then on the hiscore entry screen my score was 'rewound' to what it was at the end of 1-8 - WTF?