Difficulty 5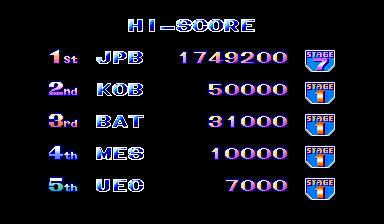 Perikles - 1,749,200 - ALL - Yes - ShmupMAME v4.2 (Japan)
Video
Good to see the score thread in your capable hands, this game is excellent and deserves more activity. It's a bit sad that you'll have to milk for extended periods of time for a high score (see below), the sheer ingenuity and execution are nonetheless more than enough to make up for it. I milked ever so slightly for I figured I might as well go for the first place while I'm at it (
), but it only lasts for a handful of minutes in total. I'll add this to my honourable mentions list, Capcom made several astounding shmups, certainly one of the most underappreciated developers (at least as far the classic branch of the genre is concerned).*
Seahawk wrote:
Don't waste time taking apart midbosses and bosses piece by piece - destroy the main part as fast as possible.

It's advantageous for both your score and difficulty to blow through everything as fast as possible.
This is unfortunately incorrect. It is true that the stage clear bonus is dependent on the time spent during the boss fight, but this only applies to the very last phase/section. E.g. you could milk every phase of the huge battleship in stage 5 except for the very last stretch against the mech and still reap those 80,000 points. It's quite a shame, really.
The link above leads to the Kyuukyoku Tiger/Twin Cobra score thread instead of the old Ultimate Ecology thread, by the way.
*I will confess that I'm disappointed in Wonder 3 - Chariot, though. Cleared it while uploading the Ultimate Ecology video, talk about squandered potential! Outstanding art direction, neat allusion to Dragon Breed's protective tail, some reputable bosses, but no real framework and a terribly random scoring system. I understand that it's just one part of the overall triptych, it's nevertheless disheartening.