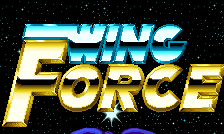 BE CAREFUL
Autofire makes the game really different, try with and without it.
____________
Rules:
1 credit only.
You can't change any settings so that's all folks.
____________
Format:
Code:
NAME - SCORE - STAGE - PLAYER SIDE - AUTOFIRE [RATE] - DETAILS

DETAILS is for what model of console and release of cart/disc, or what emulator and version.
____________
AUTO
Code:
1. Shepardus - 11,088,800 - 2-5 - 1P - 30Hz - WingForceMAME
2. trap15 - 10,086,300 - ALL - 1P - 30Hz - WingForceMAME
3. KoopaTGR - 8,318,500 - ALL - 1P - 30Hz - WingForceMAME
4. maximo - 7,604,700 - ALL - 1P - 20Hz - ARCADE64 0.195
5. EmperorIng - 7,147,300 - ALL - 1P - 15Hz - WingForceMAME
6. copy-paster - 6,484,400 - 2-5 - 2P - 30Hz - MAMEUIFX

NO AUTO
Code:
1. Jaimers - 7,021,100 - ALL - 1P - WingForceMAME
2. Despatche - 4,865,300 - 2-3 - 2P - WingForceMAME
3. KoopaTGR - 4,639,100 - 2-3 - 1P - WingForceMAME
4. Shepardus - 4,611,400 - 2-3 - 1P - WingForceMAME
5. DocHauser - 4,554,100 - 2-3 - 1P - MAME
6. TranstlanticFoe - 4,291,100 - 2-3 - 1P - WingForceMAME
7. dumple - 2,585,500 - 2-1 - 1P - MAME