Jikkyo Oshaberi Parodius, PS1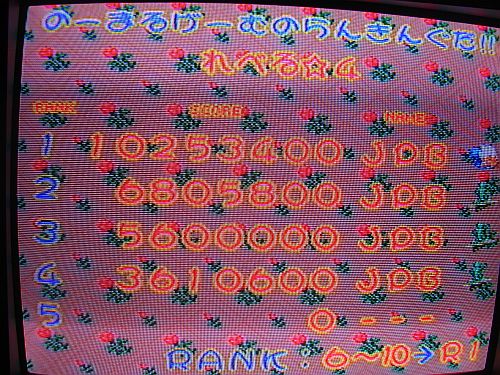 Perikles - 10,253,400 - 5-2 - Dracula
...or DRACURA, as the game calls him. Not so great upon recovery since the needle homing shot is both weak and incapable of dealing with many enemies at once, but absolutely devastating when powered up.
Very satisfied with this, got great strategies to work for the very difficult fourth loop (you need reliable recovery plans since some bosses are just not feasible with high rank), fifth loop is not even a game anymore. Since I played so well I burned something like 60 (!) lives on the final checkpoint in stage 2, that's over a million points of my total score.
I tested every nook and cranny, tapping, hiding, bell powers, different power-ups, the boss is simply impossible if you die. And almost impossible even with a fresh shield and one in reserve, I'd imagine, since the rank is even higher then.
Might check out difficulty 7 at some point in time, I would imagine that's the same thing as loop 4 on difficulty 4 (my guess is that the game just adds one more difficulty level per subsequent loop, so if you start with the default 4 the fourth loop would be indeed 7), as much as I love this game, I think I've got a satisfying score on Normal. Also need to find four more fairies in order to complete the first set of 70!