Kollision wrote:
Arcade game
Kollision - 1652,5756 - ALL - Gensuke - ??,??? - Xbox 360
Several times I got better scores than this one but no clear. As much as I tried to improve I'd often ruin the run somehow.
I will check the replay later to input the max chain.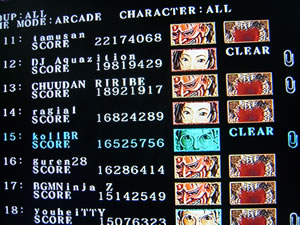 Nice! 16M is pretty good! It's amazing how easy it is to be hit in some sections like the home stretch of stage 3 and the home stretch of stage 6. If you can beat the st. 5 boss without dropping your chain or dying, you'll be pretty golden for a 20M+ score, I reckon. Also maintaining the chain immediately before the st. 5 boss is crucial to 20M+. And remember to kill yourself if you don't have any bombs when you finish the last boss. 1M per bomb is pretty beefy. Glad ya diggin' it.
CIT wrote:
Nice one, congrats! I played this game a lot, but still no clear. Would be interesting to see your max chain. How long did you keep it going?
I feel like 23M is about the max score you can get if you drop the chain completely once. *not including that wacky catspider milking of course*