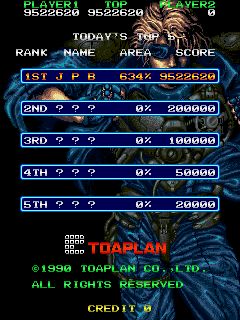 Perikles - 9,522,620 - 7-4 - Yes - ShmupMAME v4.2 (Standard)
Will upload the run, have to figure out how many videos will be necessary, I'm going to guess I'll end up with three.
Some astoundingly silly deaths (managed to dunk myself into a pit, for starters
), but also some neat performances throughout (no deaths in loop 6!). Got eight out of the nine Zero Wing ships in the first loop for scoring and a few more afterwards. That's probably my least favourite part about the game, I had quite a few restarts because something went awry there. Random items are also questionable, not getting a speed-up on higher loops will result in bomb spam that is not necessary otherwise. I even got an extend twice, but not in this run. I'm also apparently colour-blind to some degree, I still have massive problems distinguishing the shield from the Super Ball.
Aside from that it's splendid! Love the blazing-fast bullet speeds in later loops, such an intense, fun experience. Reminded me a bit of some of the board games (like StarQuest or Space Hulk) we used to play, given the focus on using terrain to your advantage. High loops are quite tough, checkpoint recovery is always possible, though, splendid design.