GGA_HAN wrote:
Can I formally request the the Saturn scores be separated from the GEN/MD scores for ThunderForce 3?
They are not comparable due to differences in gameplay which allow higher scores to be possible. The top 2 GEN/MD scores are incredible, and it would take a video for me to believe that they could be beaten on a genesis/megadrive cart. Not sure about ThunderForce AC, would like to know what others have found about the saturn version in regard to scoring.
Also, looks like my score hasn't been added to the ThunderForce AC table, as well - can this please be added?
GGA_HAN wrote:
might as well post my Thunder Force AC world version score, before I forget!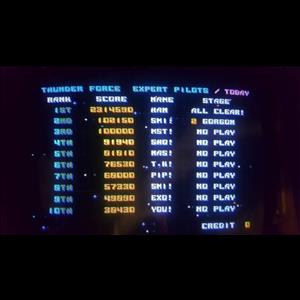 HAN - 2,314,590 - ALL - PCB (World)
No autofire used in this run, if that matters.
The Saturn version of Thunder Force AC has broken scoring. You can farm the stage 4 boss missiles for instance, which is impossible in the arcade version as they give no points. I don't believe the bosses time out (or if they do it's a very long time) so it might be possible to counterstop the game in the Saturn version. Also the saturn versions gives far more points for certain enemies than the arcade version, and the scores will be much higher in general when casually playing that version compared to the arcade version.
Also, the World and Japan versions of TF AC should also be broken up, item placement and number of enemies are both different between versions and the scores are not comparable. I can't say for certain because I haven't put much time in the World version but my guess is the scoring potential is slightly lower than the Japanese version, mainly due to having fewer enemies. However, a huge part of your score is from picking up items, and I'm not sure which version has more item drops, so take that with a grain of salt.
I talked about all of this a while back but no changes were made to the tables so they aren't accurately ranked due to all these differences.