Mills,
If you know a better way, why not help us? The entire reason I make games is because I can be so critical of them and believe I can do certain parts better. When we post here, it is an invitation for you to do the same within our own games.
Naming Convention:
-------------------------------
Why not offer advice? The game has not been released yet, so I could rename it... maybe to a name you choose.
What should we name it? Score Rush? That implies it's the same game as before. Score Rush 2? That implies it's a completely new version. It isn't. We even thought of Score Rush V2 (version 2) which implies it's a new version of the same game. My son suggested Score Rush Extended. And I accepted it not because it was my son's advice but because I felt it was a perfect fit. I loved it. It describes it is more than Score Rush (1) yet not a Score Rush 2, and that's what we were shooting for.
And the conversation on this took longer than 10 seconds. If anything, an attack on Xona Games would be more correct in that we take too much time to do things, not too little.
Visuals:
-----------------
Colors: The colors are all neon primary and secondary colors. There are a set of standard colors that make up the majority of enemy attacks, and then special and rare "exotic" colors such as purple for special attacks. So there is design. Generally popcorn enemies and boss turrets shoot yellow. There are exceptions to all the rules. During play, this is fairly balanced. I could do a run through an analyze any clashes though. (I just made an issue for me to do this.)
Depth: There is depth between foreground and background, as one is colored bright neon and the other is gray-scale. I explained this idea a bit in the art style section in the original post. The difference is quite clear during gameplay.
That is, except in our BOSS RUSH mode, where the background does have color, but the foreground consists of only bosses and minor popcorn enemies so there was not enough visual confusion to warrant the gray-scale background effect. Mills, perhaps these are the screenshots you were referring to.
Here are some screens from before, when the background was colored, with menu shots to keep it in context: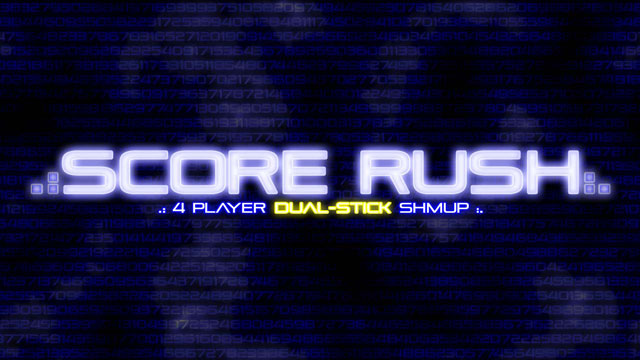 Older Score Rush [Extended] screenshot.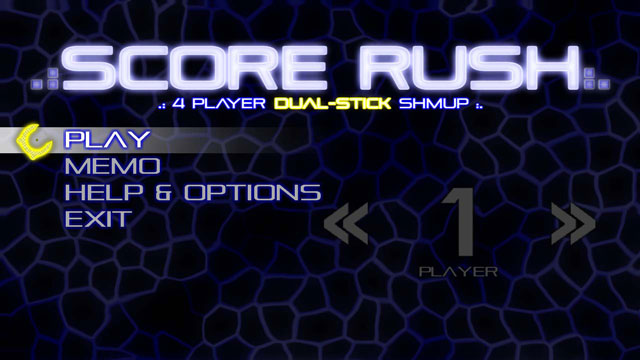 Older Score Rush [Extended] screenshot.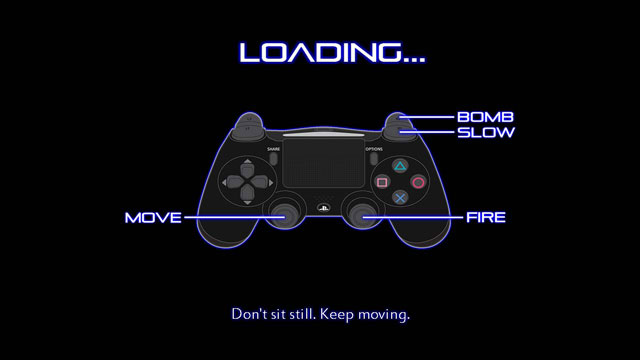 Older Score Rush [Extended] screenshot.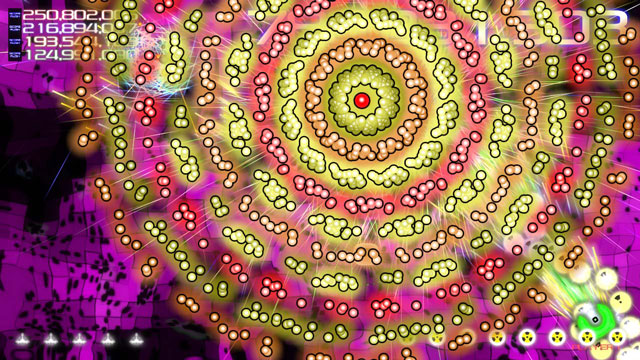 Older Score Rush [Extended] screenshot.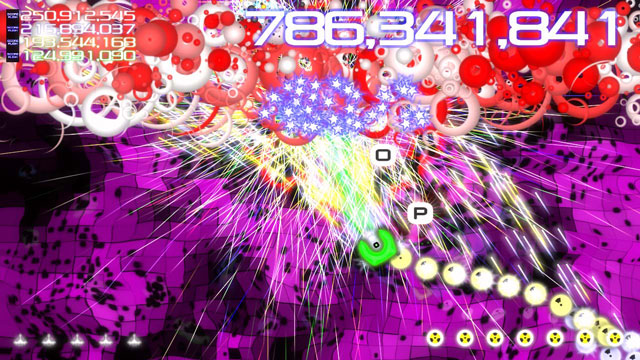 Older Score Rush [Extended] screenshot.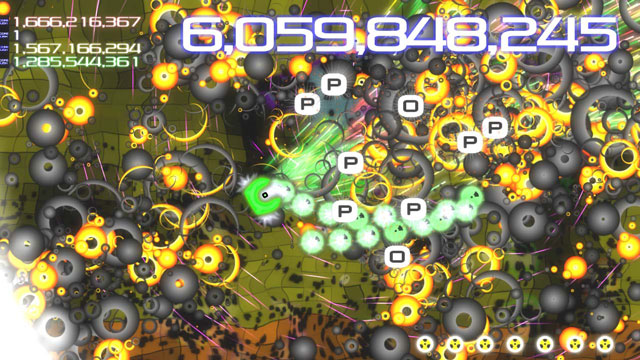 Older Score Rush [Extended] screenshot.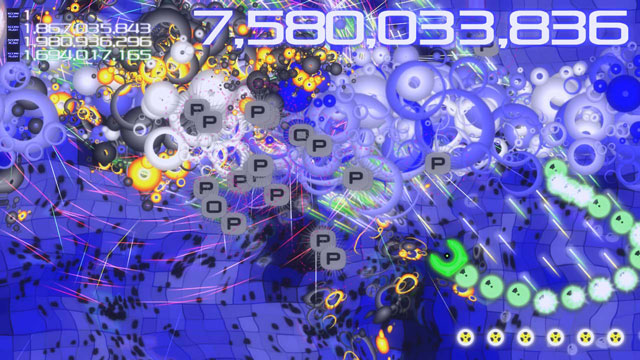 Older Score Rush [Extended] screenshot.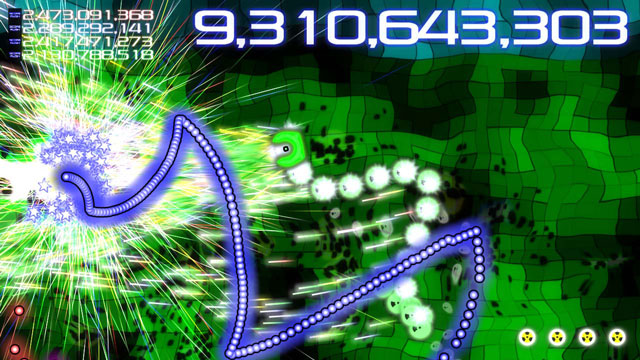 Older Score Rush [Extended] screenshot.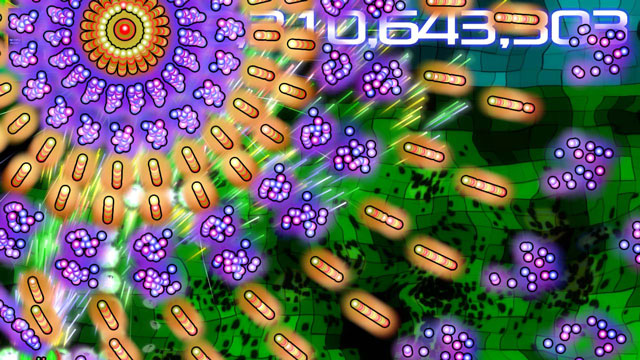 Older Score Rush [Extended] screenshot.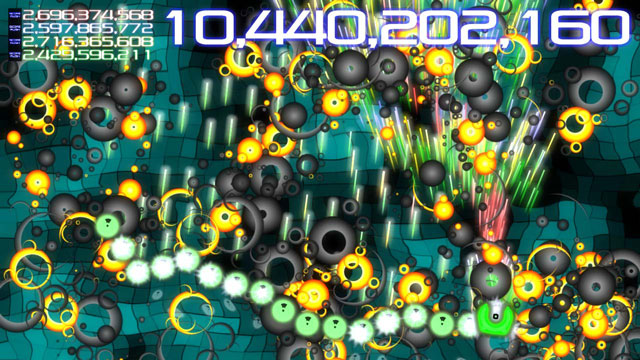 Older Score Rush [Extended] screenshot.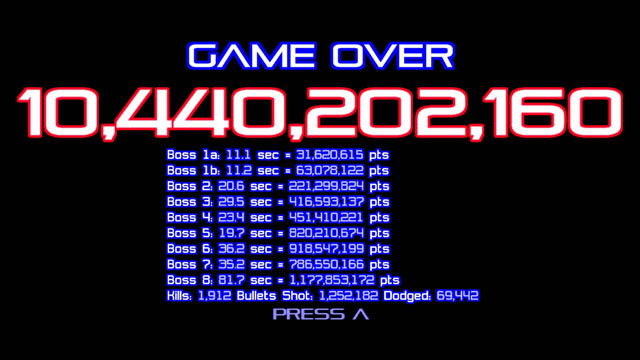 Older Score Rush [Extended] screenshot.
NOTE: The above are older screenshots, and the background design and coloring has since changed.
As you can see, it was far more visually confusing before.
#1 In Japan:
-----------------
The game was #1 in Japan on the Xbox 360 in the Xbox LIVE Indie Games marketplace, in ratings and sales, as were our other two Xbox 360 releases. This distinction became our "claim to fame". We did not compete with AAA titles. We were never the "#1 shmup in Japan of all time".
APPEND: This is similar to "best seller" in books. Are they the best selling book of all time? No. But were they among the best selling books in some circumstance? Yes. I am not sure, but it may mean they were the #1 best selling book for a period. It is a similar idea with our games. We were the "#1 best seller in Japan" and "#1 top rated in Japan", so I went with "#1 in Japan". P.S. Incidentally, we were hacked off the top lists, when the top games were targetted for rating manipulation (which affected sales too):
http://xona.com/2011/07/06.html
This attention to detail, and the assumption I am being dishonest, is a problem I run into on these forums all the time. It is both a strength and a weakness of these forums. As you can see above, I have no problem explaining the details. I am not trying to mislead anyone. Once we used "intense retro" and there was the idea our games were not retro and shmups are not retro because they still exist. All of this I agree with. However, I have a marketing job to do towards mainstream gamers. I wish this job of mine was understood. Marketing is not a place for details, it is a place to gain someone's attention. Box art cannot be a Wikipedia page.
Any constructive help on this would be greatly appreciated.
When I claim "#1 in Japan" it is because the game was #1 in Japan in some manner, not all manners. It was some form of success, not the ultimate form of success. Notice how you picked on other shmups being bigger than Score Rush (and they are), but not other game genres. Why make that assumption? Our #1 in Japan did not compete with AAA but it did compete with all other game genres on the XBLIG system, not just the shmups. However little this success is, it is some form of success, and I would like to use it to promote the game.
Again, any help in how to do this would be great.
If you can, show me what box art design I should use instead. Show me what text other than "#1 in Japan" I should use. Etc.
EDIT NOTES: I edited this post a bunch of times, to elaborate more, post screenshots, and to not come off as rude.
Thanks,