I forgot to go through a lengthy and convoluted selection process this month, so I just looked through my list of games in MAME and asked myself how I could be an asshole...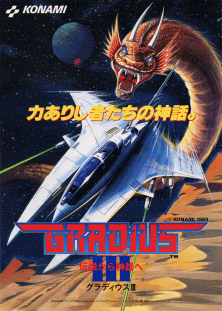 <CptRansom> i'll flip a fucking coin
<CptRansom> heads we play image fight
<CptRansom> tails we play gradius 3
<CptRansom> either way
<CptRansom> nobody wins
Arcade version (not PSP, not PS2, not SNES, not Commodore 64, not your mom). Japan version. Grow some balls and game over on 1-1 like a MAN.
I'm using the new tables because they rock tits. That being said, post scores in the following format or I'm going to look at you like you're stupid.
Name & Score & Area & Type
Don't screw it up or your score won't get posted until you correct your stupid mistakes.
Given the massive drama lately, you must submit a video of your replay as well as a simultaneous video of your hands and face (I want to see your emotional intensity as proof that you're trying otherwise you're probably just cheating).