This month's game is DonPachi! Please use the Japanese version of the game (or the Hong Kong version if you're a masochist; please indicate in your entry if you're using the HK version).
Please, NO old scores!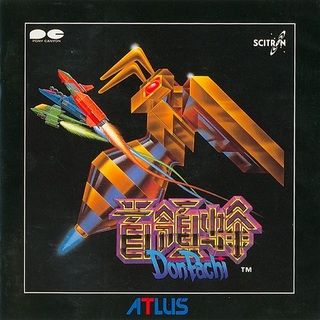 Please submit scores in the following format:
Name - Score - Stage - Max HIT - Ship Type
Scores will be only be accepted until midnight EST on June 30th. Please take all strategy discussion to the
relevant thread
I've set up in the Strategy subforum. Good luck, try hard, and have fun!
A huge thank you to trap15 for putting together this high score table at
http://dodonpachi.daifukkat.su/stgotm/
!
Japanese Version
Code:
NAME | SCORE | STAGE | MAX HIT | TYPE
---------------------|-------------|-------|---------|-------
Jaimers | 19,441,170 | 2-ALL | 62 | Type-A
Emuser | 15,536,140 | 2-3 | 72 | Type-C
THE ALLETT | 15,106,710 | 2-4 | 70 | Type-C
RNGmaster | 14,847,620 | 2-4 | 70 | Type-C
Ransom | 13,474,760 | 2-3 | 72 | Type-C
Giest118 | 11,826,030 | 2-2 | 57 | Type-C
Erppo | 11,735,930 | 2-3 | 70 | Type-C
Zaarock | 11,068,440 | 2-2 | 45 | Type-A
DoubleThink | 11,039,800 | 2-2 | 105 | Type-B
Enigma | 10,007,810 | 2-2 | 56 | Type-B
clp | 9,860,830 | 2-2 | 67 | Type-C
hwl | 9,747,690 | 2-2 | 57 | Type-C
BKR | 6,909,970 | 1-5 | 51 | Type-B
Zengeku | 6,253,360 | 1-5 | 46 | Type-A
Chirpy13 | 6,236,360 | 1-5 | 54 | Type-C
Blotto | 5,451,430 | 1-4 | 64 | Type-C
Illyrian | 5,140,340 | 1-5 | 52 | Type-C
ED-057 | 4,964,300 | 1-4 | 93 | Type-C
Despatche | 4,794,110 | 1-4 | ?? | Type-A
trap15 | 4,521,080 | 1-4 | 70 | Type-B
Frenetic | 4,345,840 | 1-4 | 44 | Type-C
Shimatora | 4,334,980 | 1-4 | 50 | Type-C
mesh control | 4,267,420 | 1-4 | 46 | Type-C
shmuppyLove | 3,270,910 | 1-4 | 46 | Type-C
1up | 3,120,480 | 1-4 | 47 | Type-C



Hong Kong Version
Code:
NAME | SCORE | STAGE | MAX HIT | TYPE
---------------------|-------------|-------|---------|-------
Zerst | 4,765,660 | 1-4 | ?? | Type-C