I think this fellow deserves his own thread.
Black heart MkII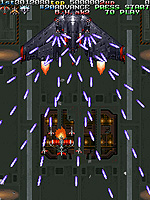 I have a big problem with his web (the first form). It seems like it does not work exactly like in battle garegga? I cannot figure out if he is about to turn left or right. Anyone know how he works?
Btw, if anyone has trouble with the attack where he shoots a wide spread of tiny yellow bullets. I think it is easiest to try to keep being below either of his wings, rather than staying in the middle.