I made this post about my game, "The Void Rains Upon Her Heart" over 6 years ago!
I just remembered this place and wanted to post an update here.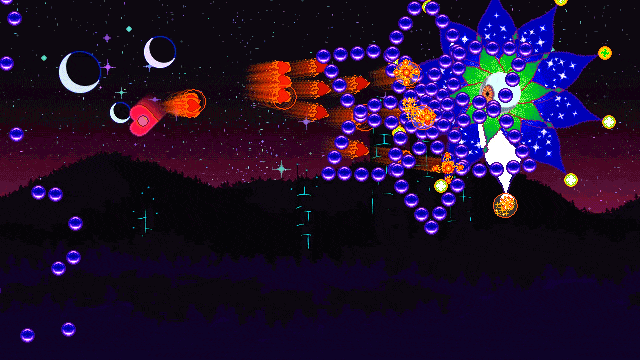 Steam Page:
https://store.steampowered.com/app/7900 ... Her_Heart/
The game is still in early access and has been for over 5 years, but it has been extremely well received the entire time! (Just look at the user reviews!) Early access has worked out so well for my game, I've been able to use the feedback to polish it to as close to perfection as I can. The game is about 90% complete at this point, but we should all know how hard that last 10% is to finish.
The gameplay loop has remained the same as all those years ago. This is a bullet hell, boss rush, with roguelike elements. A normal playthrough has you fight against 9 randomly chosen boss battles plus a final boss at the end. Each boss you defeat will give you random gifts that power you up for the rest of the run. There are currently 99 total unique boss battles and hundreds of gifts to find! There are also random events and secret bosses that can appear under certain conditions. Unlocking and encountering everything is well explained by looking through the collection page. Most of the unlocking is done by completing the 600+ achievements. There is so much stuff in this game that I've seen people still discovering entire new mechanics after 20-30 hours of playing!
The old alpha demo I linked here before is still available:
https://veyerals.itch.io/the-void-rains ... eart-alpha
It is very outdated, and only had 9 bosses and 42 gifts, but the basic gameplay is still the same.
The biggest differences are that the charged attack works very differently, and you can earn a full combo on all bosses now.