Hi guys!
Just posting about my playable demo of
ICARUS
...
...Love letter to my favourite shoot-em-ups of the 16-bit / 32-bit era!
It's a side (and possibly 45 degree and vertically) scrolling, classic shoot-em-up, more in the vein of Gradius, R-Type, and Scramble, than say, a bullet hell type (although some of the bosses do throw a fair few projectiles around!...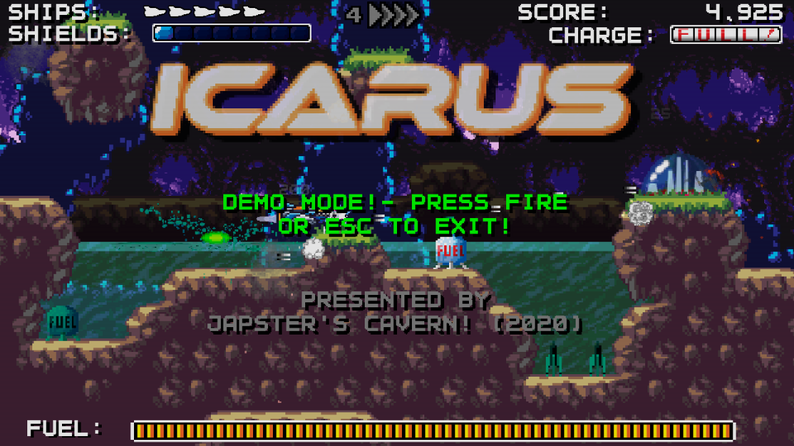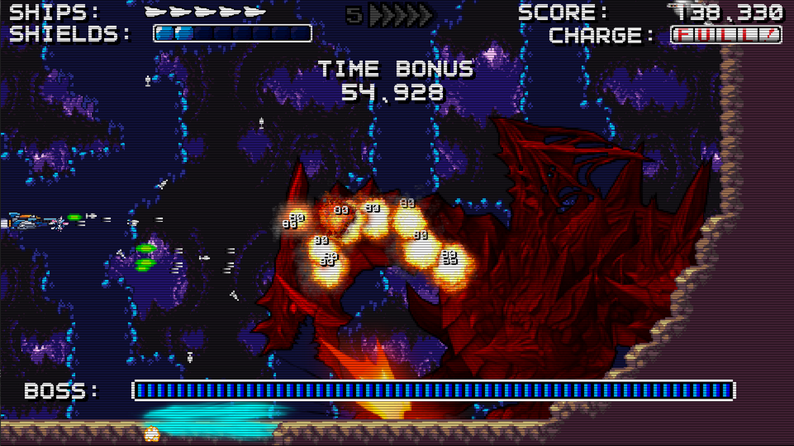 Currently early in development, with some hopefully obvious temp placeholder gfx, but I already have a big chunk of the first level playable, including an early boss, difficulty scaling with your selected gameplay difficulty (try him on Insane, ha ha!)
Also features a SUPERB chip-inspired music track - "My Pixels Are Weapons", very kindly given permission for me for use in the game by Soundcloud's "!Cube":-
https://soundcloud.com/cube-5
Awesome guy! - check out his stuff!
Controls are Joypad or Cursor keys - Keys are (and are re-definable!):-
"
Z
" = Fire Shot/Missile (5 max at once)
"
X
" = Launch Bomb (2 max at once)
"
A
" = Charge Beam (or FIRE if set to auto-charge!)
"
C
" or Left Shoulder Button = Speed DOWN (minimum 1)
"
V
" or Right Shoulder Button = Speed UP (maximum 5)
"
ESC
" =Restart level / exit menu.
Gameplay recording 'almost' works flawlessly, but need to tweak more random stuff to well, be pseudo-random, so it doesn't mess 'playback' up...
)
Ultimately intending to release on Windows, Linux, MacOS, Nintendo Switch, Playstation, Xbox, and possibly other platforms, if enough interest!
Gameplay demo's:-
Normal:-
https://www.youtube.com/watch?fbclid=Iw ... e=youtu.be
Insane!:-
https://www.youtube.com/watch?v=GHoWdjO ... D9p7O9O3Go
...and robo-snakes....
https://www.youtube.com/watch?v=N0UZpz2 ... MPue4I2-XA
The (update-friendly) demo ZIP file is currently downloadable via itch.io:-
Playable WIP Demo!
Simply download, extract and play! - Progress is saved to your user data area, so it doesn't matter where you run it from, or install updated versions to... Have fun, and please, PLEASE feedback to me on how you find it to play!
PS - I know it's rough at the moment, and the test level is just thrown together, but hopefully it gives you a feel for the gameplay etc!
What you can't tell from the screenshots or even youtube video, is that it moves VERY smoothly, the ship control feels nice and tight IMO, with multiple speeds.
The collision detection for both background is also pixel-perfect, literally - the ship's hit box is small, and ONLY counts a hit if it hits ACTUAL pixels of level tiles - no unfair shields depletion in this game! - you can literally graze any outcrop without damage, once you're familiar with the ship's hit box. I may even add modes where grazing the walls builds up weapons or score, with a multiplier for duration...