Hi everyone!
In the last two and a half years, I've been creating my first shoot 'em up as a solo dev. It is in a beta state now, and I'd like to get it into the hands of some testers. So I thought some of you guys might want to take a look at it. If you are willing to give it a go and provide some feedback, you can download it here:
https://drive.google.com/open?id=1ZXFbc ... GT7BZwZNFw
If by any chance you want to talk about it on Discord, I gladly welcome you on my Discord server:
https://discord.gg/WcsFCG
It is called Exile Squadron, and it's a sci-fi themed horizontal shmup. If you don't mind, I just paste the store description for it:
Quote:
Exile Squadron is an action-packed, sidescrolling shoot 'em up, inspired by the classics of the genre. As part of an elite fighter group, you will be granted a huge variety of upgradeable weapons, which you can use to stop the invading Colonial forces. Kill your enemies as fast as possible, collect points, and put your highscore on the online leaderboard.
Story:
It's 2120. With the creation of advanced ion engines, even the furthest planets of our system came within our reach. Mankind finally conquered the Solar System. After several long and bloody conflicts, humanity realized that only together can they create a better future for themselves. Decades went by without armed conflict. Earth and its Colonies lived in a golden age.
Then, in the blink of an eye, everything changed. The Colonies invaded Earth without warning, and destroyed all opposition in their path. As one of the best pilot on Earth, it is up to you to stop the Colonial forces.
Features:
- Fast-paced gameplay, where you have to put your reflexes to the test.
- Primary, secondary and auxiliary equipment, which you can upgrade between levels.
- Distinctive weapons, which feel and play differently (no more "samey" lasers).
- Easy mode for beginners, ironman mode for the "shmup gods".
- Kill enemies rapidly to increase your score multiplier.
- Collect points, build up your score and compete with others on the online leaderboards. (Online leaderboards are only available in the Steam version, which you get for free with your Itch purchase).
- Secondary missions on every level, which reward you with extra points.
- Detailed backstory about the future of Earth in the 21st and 22nd centuries – unlockable through collectables.
Some screenshot for the game: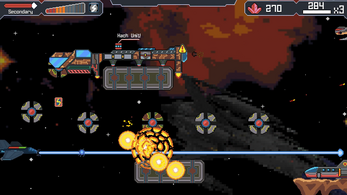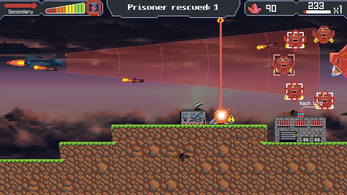 And Exile Squadron has a trailer as well:
https://www.youtube.com/watch?v=Fiw3ZoSBOyM