Hey guys!
I've been working since june on my game and slowly reaching a first beta, didn't wanted to publish it before a solid base and some content.
So as you've guessed, it is a shmup \o/
Difference with other games is that it's made for arcade cabinets (one day it might maybe available for computer play).
For the story :
"In a dark world ruled by fear, citizens try to survive among the war between the governments and the rebels.
One day an asteroid crashes on earth, freeing hords of alien creatures leading mankind in a new Dark Age...
Many humans obeyed to the new earth rulers but a few ones assembled with one aim : Preserve world from its own destruction and kick some alien asses!"
A few words on our system, we aim to create an evolutive world, players should have to earn colors to see them appear in game. Also, we wanted to make a balanced game, so newbies good enjoy it without thinkg about the score and give the superplayers a real challenge in the mean time.
Two difficulties mode would be available : "Sissy adventure" and "ChromBallZ !"
There's a tier system for not only weapons but ships.
In the final version there will be (not only blood but...) :
- 3 different ships (3 tiers each plus base version)
- 7 stages (which a bunch of background animations) and one loop
- 7 bosses
- Dozens of enemies
- a few Cave-style patterns
All graphic elements are made by hand (frame by frame), we wanted to stay as root as possible.
And a unique soundtrack composed of 7 tracks (for now...).
And some content
Initial game :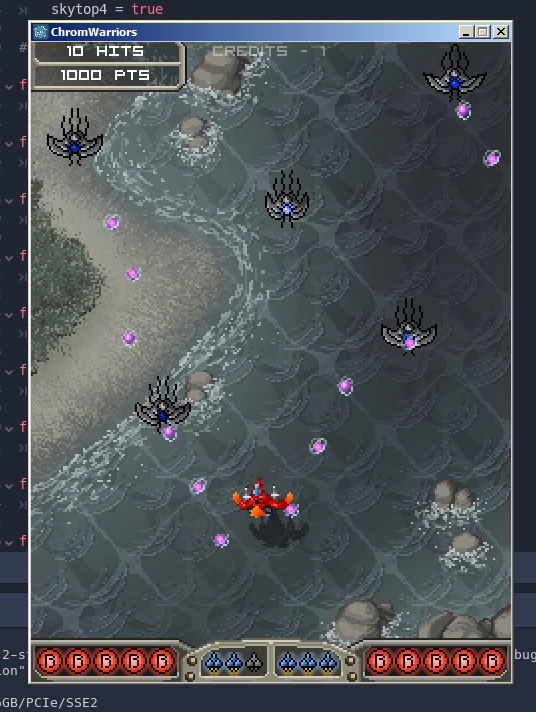 First loop :
Pre-alpha running on Blast city
First boss bullet pattern