Progress on the Raiden purple Plasma Beam: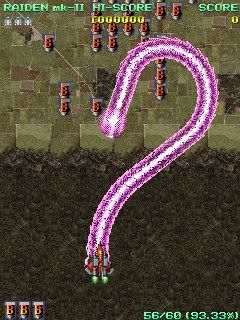 NOTE: The Bomb icons are test enemies.
*Very preliminary enemy tracking algorithm implemented. Still imperfect.
*The laser now damages enemies.
*Lock-on "head" where the laser terminates on a locked-on enemy.
*Performs the famous "death coil" with many enemies in the area.
*Still needs the latent spark effects on the head and body.
This is close to emulating the real Raiden II Plasma Beam. Here's a screenshot from Raiden Fighters 2 for comparison:
With a few more tweaks, I will have the Plasma Beam algorithm ready to give to people who are requesting it.
I'm doing this weapon first, because it's obviously the most complex weapon in Xeno Fighters EX. With the power of Game Maker Language at my disposal, I can finally make a Raiden Plasma Beam close to the original.
EDIT: One suggestion I received a lot with the old version is if I will put in Slaves or Slave-type helper craft. If enough people request it, I will put in Slaves in the remake.