I've been working on an Asteroids (crazy right) "reboot" that focus on mechanics and power-ups first and foremost with a simple but clean visual style. It amps it up quite a bit, not to bullet hell extremes, but it can be quite challenging especially if you stick with my classic "tank" control style -- it now has twin-stick style controls too.
It's called
Solaroids
, but I've been letting people play it under a
Solaroids: Prologue
title on Steam (Win/Linux/OSX) under there early access program. It's been great for feedback, but not as direct as I would like.
I've wanted to make this thing since my Amiga days, and in homage to both it and the original Asteroids arcade machine I'm planning to do a 16-bit and vector skin before it's finished. I still have some of my original 16-bit Deluxe Paint III art.
I have a free demo available and would really like to get feedback from fans of 360 shmups, and of course fans of Asteroids style shoot'em ups in general. If this looks like something that you'd be interested in joining early access on, it's actually on sale for the holiday season. There's quite some competition in the high scores, and I still haven't top'd the best -- and I made the damn thing!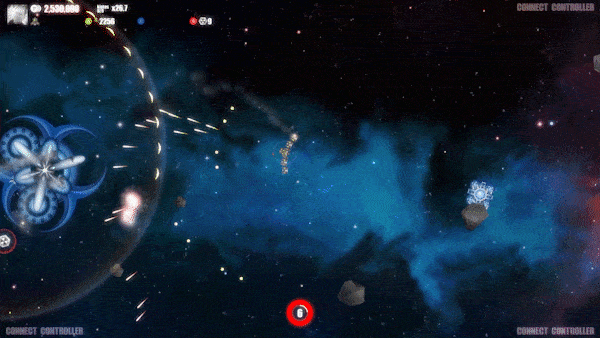 I haven't figured out the best way to describe the game, but here's my current "store" page lingo:
Solaroids is a re-imagined version of the classic Asteroids® as a single or local multiplayer shooter. Dodge and strafe your way to victory against insurmountable odds. Compete on the global Leaderboards using either modern "Twin-stick" or classic "Tank" controls and see how you stand up to the best pilots.
Fly solo, or with up to three of your friends, against a seemingly insurmountable threat that is after your precious sun. Defend your solar system in a Campaign that progresses from tame introductory levels to epic high-octane space battles that will challenge even the most experienced pilots.
As the campaign progresses and the threat continues to grow, so will the kinds of weapons at your disposal. Perform advanced maneuvers while dodging asteroids, mines, and enemy missiles, as you upgrade the capabilities of your ship and rack up higher and higher scores. Keep your ship and outrider attachments in good repair, or watch your precious power-ups float off into the darkness of space for the taking.
Current Features
Classic Asteroids® style game play

Huge wrapping arena

Wide assortment of power-ups and threats unlocked throughout the levels

Forward and reverse thrusters

Primary, secondary, and defensive weapons

Customize primary and secondary player ship colors

Reticle indicating location of items of interest including enemies and players

Damage system based off physical, mechanical, and electrical properties

Up to 4 local players


Join at any time

Unlimited credits (configurable)

Cooperative or not - you decide (configurable)


Game modes (current):


Campaign - Defend your solar system from the impending threat

Free Play - Provides instant and insanely intense action (unlockable)


Separate local and global leaderboards for both First Credit and Any Credit high scores

Original soundtrack with support for Steam music

4K+ resolution support

60Hz-240Hz+ support

Configurable controls:


Classic

Hybrid (single-stick)

Modern (twin-stick)


Supports common controllers:


Keyboard

Xbox 360/One

Dualshock 3/4

I'm still actively developing it and will bringing it to major consoles (Xbox One, PS4, & Switch at the least) and mobile sometime around the end of next year(ish). I keep hoping Atari will get there VCS plans figured out, as I'd love to be able to put it on the new VCS when it comes out.
Anyway, I don't want to ramble on. I'm happy to answer any questions you have about it, or about development, and am also very interested in meeting other developers in the genre to "talk shop".
Cheers,
Chad (kiates)
P.S. Here's a few more gifs. I have a bunch more on my website
here
(maybe too many) along with my current trailer, links, etc. You should check it out, even if to marvel at my wonderful parallax...
I worked hard on that css!