A kind person recently provided me with a bare PCB, so I assembled a vd_isl board and thought I'd share a bit of footage and draw some comparisons to the OSSC Classic.
New features over the OSSC Classic include:
• Adaptive line multiplication. This always outputs a standards-compliant resolution, significantly improving display compatibility, while framelock and less than 40 scanlines of latency is maintained.
• 240p ➤ Line6x, 480p ➤ Line3x (1920x1440), in adaptive line multiplication mode
• Noninterlace restore mode. This can restore the original 240p format of some arcade ports that output an idiosyncratic "240p via 480i", examples include Sengoku Blade and Dragon Blaze on the PS2
• Indications are that the H-PLL of the ISL51002 video ADC is more robust than the one from TVP7002 used by the OSSC Classic, improving display compatibility to some degree in some problematic cases like the NES/SNES jittery sync
Some photos of the device (click for larger version):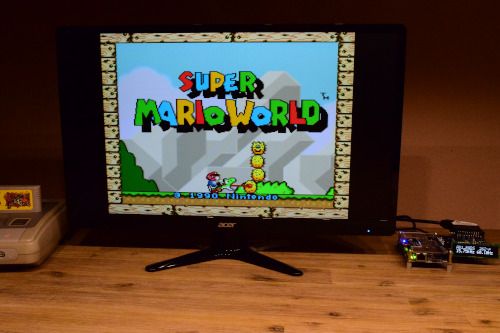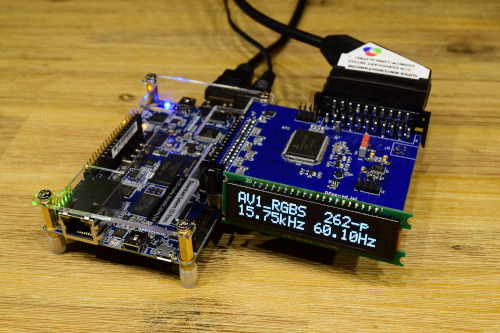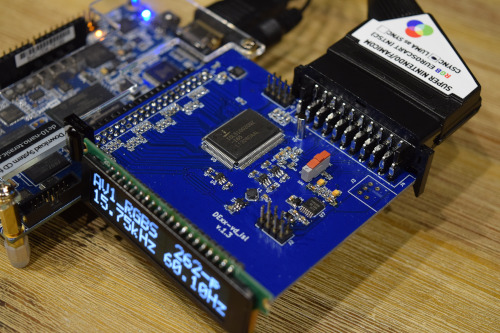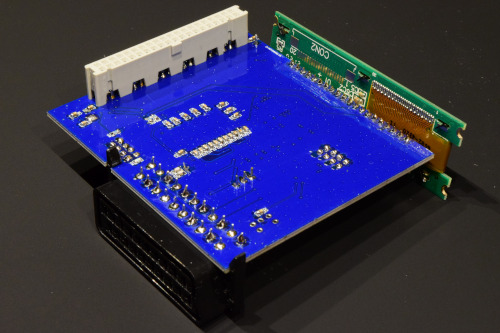 For the OLED display, instead of the NHD-0220CW-AW3 which will be used by the OSSC Pro, I used the NHD-0216CW-AW3 as I couldn't easily get hold of the former one at that time. The latter provides 2 rows and only 16 columns instead of 2 rows and 20 columns; this means 0-4 letters will be cut off depending on the current selection (e.g. 'AV1-3 video in opt.' becomes 'AV1-3 video in o'), but here that isn't a big deal to me. There are also other illumination colors available, the 'X' in the '-A
X
3' suffix of the part number denotes the color. The display is really pleasant to look at (looks even better than the photo is able to capture), the increased contrast improves readability compared to the original OSSC LCD display and underlines the 'pro' aspect of the upcoming device.
Cost for parts without the bare PCB was around 90€ (around 110 USD currently), shipping excluded – the ISL51002 being the most expensive part by far with 44€. I also ordered a small amount of bare PCBs, which amounted to 10.80 USD per piece.
With SW1 you decide which SCART pin is connected to the SOG0 pin on the ISL; position 'CSYNC' connects pin 20, 'SOG' means pin 11 is connected – the latter is also needed for YPbPr. The sync slicer behind the SOG pins accepts 'bare' CSync, sync on green and sync on luma, I have yet to test if composite video works as well. Make sure there is no SD card inserted that's bootable by HPC, otherwise this may interfere with configuration/operation of the FPGA.
With the OSSC Classic, both the monitor and capture card used for these tests cannot handle the SNES jitter in Line5x mode, the latter even has difficulties with Line4x mode. With DE10-vd_isl, they process the 5x output signal flawlessly in both line multiplication and adaptive line multiplication mode.
The jitter is still slightly visible near the top edge of the screen in LM and ALM mode as it temporarily affects the H-PLL, if you look for it.
Some lossless screenshots, I used default settings everywhere except where otherwise noted, OSSC FW version is 0.88a, DExx-vd_isl FW version is 0.41:
SFC, 240p, Super Mario World
DE10-vd_isl, Line4x ALM, Generic 4:3 (1920x1080)
|
cropped
|
cropped and R,G,B gain set to 290
DE10-vd_isl, Line5x ALM, Generic 4:3 (1920x1080)
Phase looks off, the current FW doesn't provide an option to manually adjust sampling parameters:
DE10-vd_isl, Line5x ALM, SNES 256col. optimized (1920x1080)
OSSC, Line4x, Generic 4:3 (1280x960)
|
cropped
PS1, 240p, Crash Bandicoot 2
OSSC, Line5x, Generic 4:3 (1920x1080) #1
OSSC, Line5x, Generic 4:3 (1920x1080) #2
DE10-vd_isl, Line5x ALM, Generic 4:3 (1920x1080) #1
DE10-vd_isl, Line5x ALM, Generic 4:3 (1920x1080) #2
Crash Bandicoot 2 uses 512 dots per line, but the PSX 512col. mode is currently blurrier than Generic mode:
DE10-vd_isl, Line5x ALM, PSX 512col. optimized (1920x1080) #1
DE10-vd_isl, Line5x ALM, PSX 512col. optimized (1920x1080) #2
OSSC, Line5x, 512x240 opt. (1920x1080) #1
OSSC, Line5x, 512x240 opt. (1920x1080) #2
Line4x ALM combined with PSX 384, 512 and 640col. modes is currently broken:
DE10-vd_isl, Line4x ALM, PSX 384col. optimized (1920x1080)
GC, 480p via GCVideo & HDMI-to-YPbPr DAC, Super Mario Sunshine
GCVideo hardware is a Carby, FW version is 3.0e, all settings are on their default values, OSSC has Pre-ADC-Gain set to 9 and Sampling phase set to 315deg for the DTV sampling pics only. DAC is a Portta
(this one)
.
Since you can use a DAC+OSSC combination to reduce the degree to which your display has to scale the picture, thereby increasing overall sharpness, I was especially excited for this. The OSSC only gets you to 960p however. With 480p Line2x ALM, 1920x1080p is output, and the resulting picture looks gorgeous on my 1080p monitor. The OSSC Pro will then further be able to do away with the DAC and ADC steps thanks to its digital A/V input. Unfortunately I couldn't yet test 480p Line3x (where the picture will then also vertically fill the screen - more or less, depending on the game), as the displays I currently have access to only accept up to 1920x1200, and while the Magewell USB Capture HDMI Plus should on paper be able to record that timing, it doesn't for some reason I have yet to find out.
In an attempt to mimic how a typical 1080p display would process and show the signal, I also upscaled each respective screenshot to 1080p with GIMP using bilinear interpolation. The results are very close to what it looks like on my monitor.
PS1, 240p test suite, color bar pattern
Colors are a bit too bright on current default settings, crushing the brightest sections:
DE10-vd_isl, Line5x ALM, Generic 4:3 (1920x1080)
DE10-vd_isl, Line5x ALM, Generic 4:3 (1920x1080)
R,G and B gain adjusted, values are exemplary, not necessarily optimal
If you have any questions or suggestions, ask away
A few more tests following soon.