dandiego wrote:
kitty666cats wrote:
I really ought to get it together and make a big batch of those cables, they'd probably sell like hotcakes on eBay!

Is this basically the same thing? >
https://retro-access.com/collections/an ... cart-cable
I, personally, was referring to the lack of cables wired the opposite direction... female SCART w/ audio breakouts to male DE-15 - wired for composite sync (and, could install a LM1881 in said cable if the buyer does not have RGBS 'csync' cables already. Usually whenever people make custom cables like this, they pop an LM1881 in regardless - that way you're getting the TTL sync levels that are most likely going to be needed for nearly all devices/monitors such an adapter cable would be used for). RGC UK / VGP used to make them: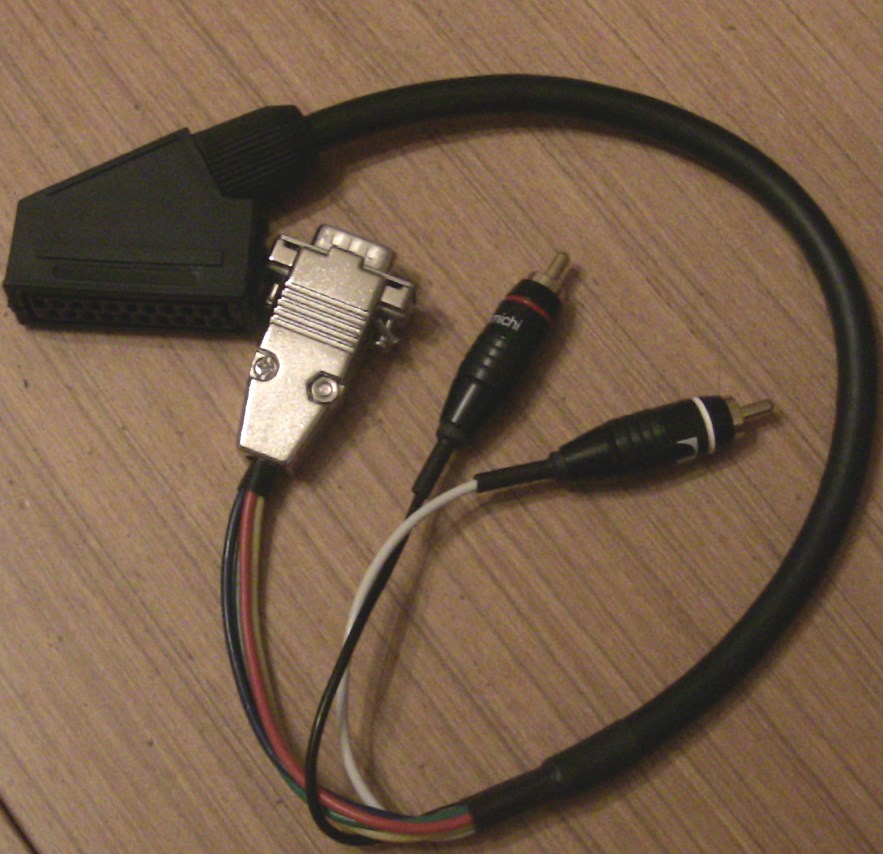 https://videogameperfection.com/2014/11 ... le-review/
~~~~~~~~~~~~~~~~~~~~~~~~~~~~
If you want a cable like the one YOU linked (DE-15 source wired for composite sync + audio breakout to connect back to source's audio output -> Male SCART), then I have two links that are FAR more affordable than RGC UK & the similar cables made by Retro Access (for some reason both companies market them specifically for Analogue consoles & try to deter customers from any other use case, but all they are is simply a DE-15 source wired for composite sync on the Hsync pin) / I can personally vouch for the cable in the first link working flawlessly for me (I use said cable with my Key Digital KD-CTCA2 component to RGB transcoder with the dipswitch set for negative sync + composite sync output. For my NTSC Wii in 15kHz mode for 240p RetroArch in my all-RGB setup)...
https://coolnovelties.co.uk/coolnovelti ... 07088.html
http://retrocables.es/tienda/index.php? ... &id_lang=4
Worth noting is that the first cable seems to be exactly the same as THIS one, only at a better price
https://ultimatemister.com/product/rgb-scart-cable/
——————————————————————
...also, I have a bit of a bombshell RE: RGC UK's cables - seems a lot of them are now being made dirt cheap in China, here's some AliBaba store I uncovered recently:
https://m.alibaba.com/product/160009010 ... 5-Pin.html
https://m.alibaba.com/product/62338987828/detail.html
And this third link, you'll see they also have the RGC UK component cables inspired by HD RetroVision's cables! However, the console connector is bare and I have no idea if the inline transcoding PCBs are included or not -
https://m.alibaba.com/product/62412451725/detail.html
Unsure if anyone else has already made this known, it's quite odd... it could be possible that the place in China is using RGC UK's designs, but if I had to guess it's RGC UK who is having these cables made by this place in China. This would definitely explain their odd lapses in cable quality over the years.
Others have caught on, those folks who make the VGA2SCART are clearly using the same cables. There's also this Amazon cable:
https://www.amazon.com/dp/B08JGCXKRT/re ... UTF8&psc=1