UPDATE 4/16/19
At this point the mod has reached a level of polish that I am satisfied with releasing it officially. As such I have decided to update this post with all of the information about what this mod is and does.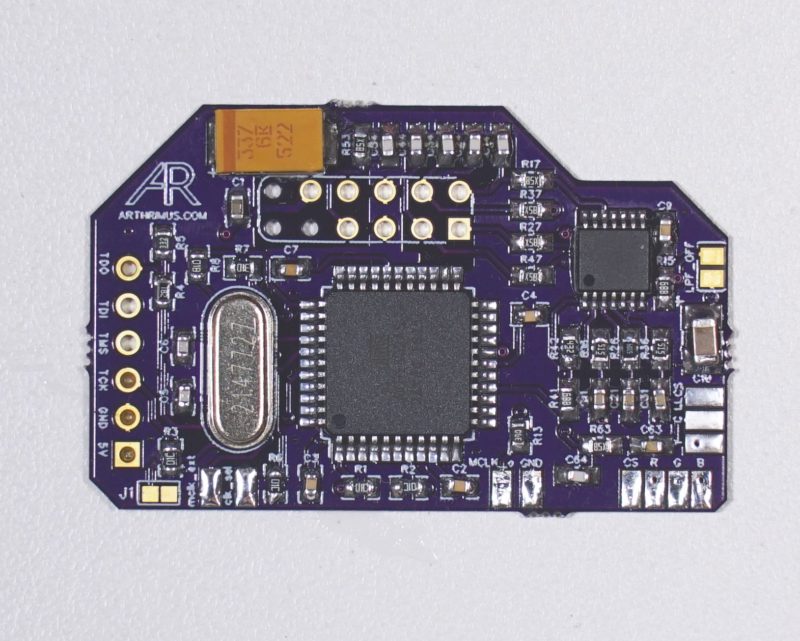 What is it?
This mod is the result of an effort to combine Borti4938's high quality RGB Bypass mod with Marqs85's SNES Dejitter mod. It allows for a simple and clean installation of both mods with minimal wiring. It is compatible with SNES 1CHIP and SNES Mini/Jr. models.
Features of the Mod (What does it do?):
-High quality RGB Bypass based on the design by Borti4938.
-S-Video restore for SNES Mini/jr.
-TTL C-sync restore for 1CHIP-03 models.
-C-Sync dejitter functionality from Marqs85's SNES Dejitter mod project.
-Optional logic level C-Sync output for adding dejittered S-Video and Composite video through the S-RGB encoder.
-Ability to disable dejitter functionality on demand.
Video Overview and SNES Mini Installation Demonstration
Where to get it.
I have released board files on
OshPark
if you want to have your own manufactured. The BOM for the project is available for download from my website
here.
Firmware for the Dejitter portion of the mod can be found at
Marqs85's Github
With multiple fine pitch SMD packages and very small 0603 components this is not an easy build. If you are not confident in your ability to build it yourself
I do have fully assembled and programmed boards available in my modding shop.
I can also perform installation service as well.
I'm still working on documentation for those who will be doing their own installations. It's pretty easy to install but there are some special considerations depending on which model of SNES you are installing. When I have that ready I will post it on my site also.
Original Post:
I've been RGB and dejitter modding quite a few SNES Minis lately, which currently involves installing both the Dejitter board and a separate RGB bypass mod. Since I forsee many more SNES Minis in my future I decided to spend the day trying to combine the RGB bypass and Marqs' dejitter mod into one easy to install PCB. This is what I have so far.
The design is derived from Marqs' v1.2 Dejitter board and Borti's RGB bypass V4.1a with S-Video. I'm fairly new to PCB layout so there may be some issues that I haven't accounted for. As such I'm not releasing the gerbers until I receive my prototypes from OSHpark and can test for any problems. If all is well with the design it should make for a really easy all in one SNES Mini and 1-Chip mod.
Let me know what you guys think.