I fixed my "sync issues". Turned out to be a classic case of user error. Once settings were set correctly, all the issues were gone (including most geometry issues at the edge).
So.... now that I had a chance to play a few games, I am sticking with my original "buy now" advice.
The screen is clear from edge to edge (which surprised me on a screen of this size) and this applies to all three modes. It's not perfect but no crt monitors is (aside from $15,000 broadcast monitors). The one I received has fewer issues than my XM29 did.
I'll share a few pics. First, 240p: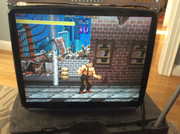 I am never sure why people post close-ups of title screens but just in case there is a good reason: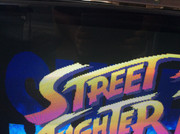 I guess it shows the "scanlines" for those that like that sort of thing.
Here's Super Turbo. Not my fav street fighter 2 version but it is considered a benchmark: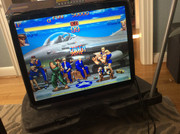 And Turtles in time, a game that stole many of my quarters when I was a kid: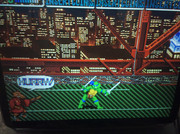 Turtles is one of those games that looks bad when run on a crt with a pitch that is too fine. It looks great on this one. Just like I remember. Look at splinter (the rat in the corner). He looks clear and sharp even at the edge of the screen.
Here is a pic of it running in EGA mode with Paperboy - a game that really had no reason to run in EGA but... it did...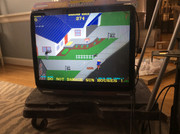 And Ridge Racer running in it's native 480p: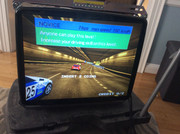 This is the reason why Tri-sync arcade monitors are the ultimate display for everything from the dawn of gaming up to the PS2 (and PS3 in some cases). The ability to play every single game in it's exact native res and refresh rate is what it is all about. It just makes it better.
Btw, Any moire pattern is from the camera and not the screen.
It's interesting, this 27" / 29" tube has the same .80mm pitch as my 24.8" but with the different screen size and tube manufacturer, the image looks quite different. The image is definately sharper on the 24.8" but, in many ways, I prefer the image on the larger one. The overall build quality on my Billabs 24.8" is better than on the Makvision but I think the larger screen size improves the experience enough to make it worth any of the compromises.
As the last option for buying a new crt arcade monitor at a reasonable price on planet earth, it's not a bad one.