I'll be able to say for sure next week but I am almost positive that it will be identicle to my current tri-sync arcade monitor in quality and operation (except for it being 4" larger).
These arcade monitors do not scale anything. They don't have the capability. They just switch res between 15khz, 24khz and 31khz so 240p, 368p and 480p are all displayed natively (and perfectly).
I have been very happy with the image quality on my 24.8" flat crt. The image looks like I remember in the arcades. You don't get thick black gaps between scanlines like you see on a Sony PVM / BVM or an Ikegami. In that respect, it is closer to what you find on RGB capable consumer Trinitrons from the early to mid 90's - which is great as I don't like seeing jagged edges that weren't there in the arcade.
Here is Final Fight running at native res (240p)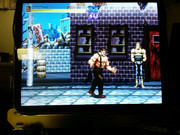 Here is Sega Ralley on the PS3 at 480p (which look amazing):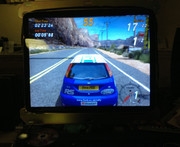 And Virtua Fighter arcade at 368p (EGA):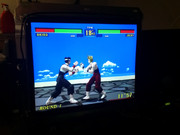 I'm not sure where the forum legend about flat crt monitors having more geometry issues started but, in my experience, this has far more to do with the quality (and price point) of the individual monitor. My Sony BVM (which is flat) and my Ikegami have no perceivable geometry issues. Every other crt monitor I have seen in my life has some at the extremities. It's rarely a big deal though.
I have never had issues that were noticble in an actual game except with my NEC XM2950. I don't spend much time looking at test patterns.
One more 240p pic just for fun: