cr4zymanz0r wrote:
Will this play nice with the OSSC's non-standard output?
The C2-750 has 4:4:4 sampling and artifact-free upscaling, you can set the OSSC to 2x240p and 480p passthrough and forget about higher multiples. Unless you want to add scanlines, in which case it gets a bit messy since this scaler tends to break scanlines. I haven't found a completely satisfying solution yet. Best I could do was set the OSSC to output 5x240p (1200p) and live with the slightly wider AR (click to zoom in):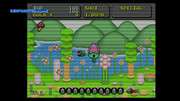 Due to the limited AR controls on the C2-750 (you can only 'zoom in' vertically or horizontally within the 1920x1080 frame - which means you stretch the image up to the frame borders and only then actually start zooming in), you don't have a lot of leeway to tune in the AR with scanlines on. Even with a 1200p input, you will mess with the scanlines: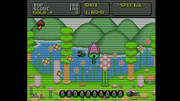 You can get perfect SL (and fill the frame vertically) by selecting 1:1 mapping but then you lose a few lines: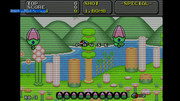 This is with a 1200p input, not 1080p, so it's the scaler that cuts the image. I didn't try to use the manual sampling options, maybe that helps getting a better result. Edit: of course not - there's no getting around this since it's a 1:1 mapping of 1200p on 1080p frame.
cr4zymanz0r wrote:
How much latency should I expect it to add?
As I said above, around 1.5-2 frames.