cps2_digiav installation on Dogyuun (Toaplan2 hardware series):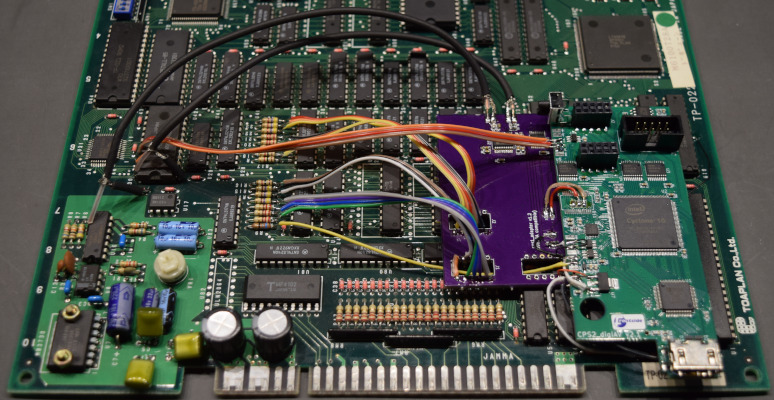 Illustration of hookup points:
JPG
Mounting tape placement:
JPG
First time SMD soldering (with regards to the cps1_adapter board), glad it worked out. The 1.2mm chisel tip fit the task quite well, next time I might switch from .5mm to .35mm solder though, and I need a finer pair of tweezers. I was going to use RG-58 coax cable at first, but considered it a bit too stiff, so I went with RG-174.
Very happy with the result, many thanks to marqs and all other contributors who made this possible!
Here's a video capture (1600x1200 output mode):
YouTube
Note that the footage was first compressed by me, and once again by YouTube, so there are artifacts in the video which are not part of the live HDMI signal. Here are a few lossless screenshots for reference (click for full size):
I also recorded footage off of a patched program ROM where the sync signal quirk is removed (more info in
this thread
). This effectively simulates a game that doesn't exhibit the anomaly (slightly different sync timing as a consequence), showing that it works with these games as well:
YouTube
Velyks wrote:
Has anyone else had issue with getting the Magewell USB Capture HDMI, or some picky HDMI screens, to display the content coming out of the CPS2 Digi AV?
I'm using the Magewell USB Capture HDMI Plus, and all video output modes work fine (with the Toaplan2 installation).