Hi there. I've been reading a lot on the internet about making consumer TVs to accept RGB signal, and it eventually pointed to shmups.
My name is Luiz, I am a Brazlian software developer but I do not know anything about eletronics, so I came here seeking for help/guidance on how to mod my TV SET. Disclaimer - I do have an digital multimeter and solder equipment, i just lack the knowledge of what components should I add, like, capacitor, resistors, and their respective values, etc.
Here are my and goals and hardware:
I've got both an old PC and TV for free. The PC was not working, I've did fixed and made small upgrades so it could actually browse the internet and render youtube/netflix videos without problems. Then, I've watched two videos, first was 8 bit Guy modding his TV to accept RGB, then, Linus Tech Tips salvaging old harware and making an awesome Arcade Cabinet out of old PC and old TV set.
Then my goal was set:
Mod my TV to accept RGB, and use it with my old PC with GroovyMame + CRT_emudriver.
Unlike 8-Bit-guy, Ive decided to use VGA port on my TV instead of 3 RCA inputs, so the VGA cable used from the PC goes into the TV without any kind of mod and remain perfectly shielded. Then, doing the required VGA to RGB cable mods inside the TV. One of the reasons for this is cost - BNC connectors and cables are much expensive here on Brazil, and I had many spare old, known good VGA cables. Meanwhile DB15 connectors are super cheap, and some friend told me that RCA doesnt offer enough shielding.
I'm also planning to use Ethernet CAT 5 cable wires from the VGA port to the TV board. It was the last option, I wasnt able to find any kind of small, solid wire being sold here on my town. I'm not sure if it can handle the voltage / current and the overall warm temperature inside the CRT.
PC:
CPU: AMD Athlon 64 x2
RAM: 8GB DDR2
GPU: It didnt had any, but after reading a lot, bought an AMD Radeon HD 5450 that is capable of sending CRT compatible signals with CRT_emudriver.
The AMD Raden HD 5450 has HDMI, DVI-D (digital only sadly), VGA - port that will be used to go into CRT.
TV:
Philco Duetto 20 PVT - 2014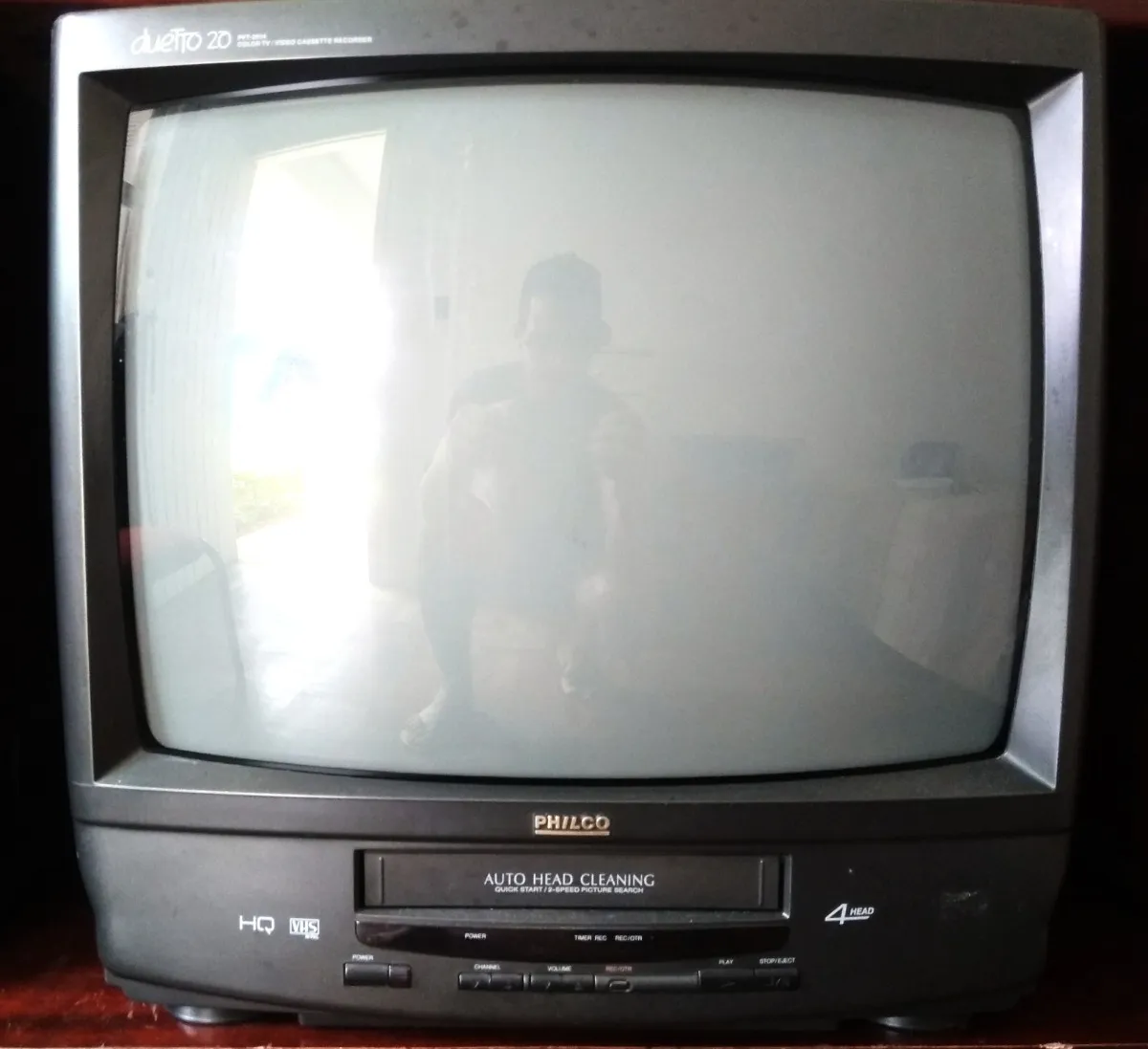 That is a curious TV set - It comes with VCR. I do not own any VHS tape so I never tested the VCR.
The TV only accepts Pal-M (brazilian signal), that is Sync-compatible with NTSC, but will not display colors when receiving NTSC.
It has only RF input and RCA Composite Video and Left audio input. It doesnt have an "AV" channel for composite video input, instead, the TV automatically detects if there is any cable connected to the Composite input, and then overrides whatever TV channel was being displayed. Sames goes with the Left audio input - it will keep playing the TV channel audio untill you plug something on the left audio input.
Even if both composite and audio cables doesn't have any signal (not plugged into any device), the TV will render a black image and stop the audio playback of the TV channel.
The TV has 2 boards - one standing vertically on the right side (looking from behind), where the flyback and many big capacitor are located, i presume its the power supply. I belive this is the hot area of the TV, since all cables from the tube/neckboard are connected/soldered to this left board. The second board that sits horizontally bellow the tube, is where the main chips are located.
The TV Set schematics I was able to found online, not even sure if it is for my model.
https://www.electronica-pt.com/esquema/ ... no_html,1/
Possible Jungle Chip: Toshiba TA8867BN
https://www.digchip.com/datasheets/down ... r=TA8867BN
Possible Microcontroller Chip: Toshiba TA8751AN
https://datasheetspdf.com/pdf/500310/Toshiba/TA8751AN/1
______________________________________________________________________________________________________
Well, long story short - After some eyeballing and internet search, I think i've found the Jungle Chip. However I do not know where to begin, since the board is massively huge and has many chips.
As it shows on the photo, this square is where the vcr unit sits down. It has many chips on this area, but I wasnt able to find any schematics about them.
These are the cables that connects the chip board to the hot board:
*************Chips that were bellow the VCR Area*********
Underneath the board, Top Middle:
Top Left:
Top Right
Middle left:
***********Now, Chips outside of the VCR area*************
Bottom Left upright board:
And, the probably the Microcontroller and Jungle chips. Note, they stand very near the connectors that links into the Hot board:
Bottom Right:
Bigger one is TA8867BN, that I suspect is the jungle IC
Smaller one is TA8751AN
Now after reading the possible Jungle IC, it does seems to match with the TV schematics (page 36 of the PDF):
This is the possible pins for RGB input, and the blanking signal (Ys)
So, i've tried to trace these pins under the board but can't get nothing due to my lack of PCB knowledge. There is an capacitor underneath the supposed jungle chip.
Any guidance is surely appreciated! Immense thanks!