New place (and monitor), so it's time for a new retro gaming setup. The modus operandi here was : "
must look good, integrate well with the living room(will stay there) and allow for couch gaming"
. So I got a cool (and cheap)little tv stand, through the classifieds; piled my most-played games right on it (put the rest in the main-tv stand's drawer), put a couple consoles in and got it setup clean and neat. Very happy with it so far. that setup has got me pumped to play, and I like how it fits in the living room, furniture/deco-wise. Feels good to finally have figured out the placement of my retro-gaming stuff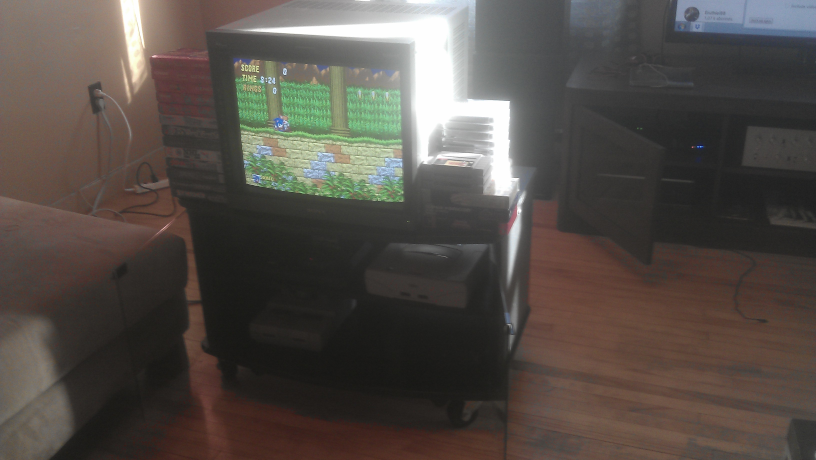 By having my games on there(what you see there represents ALL of the games displayed in my living room) it means I won't have to display them on a half of a bookshelf with other medias like films or music. had it setup like that at the old place and I always thought that looked like a rando mish mash of stuff and I wasn't happy with it. now my media shelves will be more consistant. And my games are easier to access as a result
Could have squeezed in a few more consoles in there but the air flow situation would have been bad, plus I think 4 consoles look good in there. I'm gonna swap in my 2 other fave consoles(NES and Dreamcast) as need be, I don't mind it as I usually focus on a console or two at a time for decent stretches, so swapping shouldn't be frequent.
The NES' powersupply is plugged in and chilling there behind the SNES, and since they both use the same RGB cable it'll be a cinch to swap it in. Dreamcast psu and RGB cable is also hanging behing the Saturn for a quick swap. my Japanese PS2 can be very easily swaped in as well. All systems play japanese games.
The back looks pretty damn clean too. Those 2 wires on the floor go to the wall outlet and have a velcro strip on them to tie up they excess lenght.
All consoles plugged into a power strip that resides inside the tv stand. all excess RGB cables are tightly rolled together and tied well with velcro strips, and that non-messy loop is stored there behind the PS2, with the SCART-to-BNC adapter dangling just right by it so that the cable loop can stay there and I can still plug all my RGB cables into the adapter.
I chose to not use a switcher/matrix, because I honestly don't mind unplugging my SCART cables, and also there's not really enough space left in the TV stand(which is the only spot to put it in for a clean look). Less components/wires make for a cleaner look tho, and as a result when I look through the front of the TV stand it looks really clean, not at all crammed with wires and other stuff. very baren, which looks super clean and open.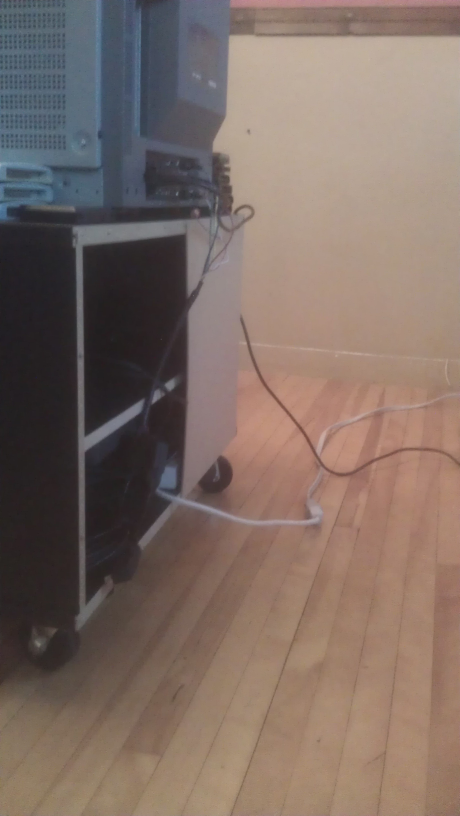 This is no impressive cable management or anything, and there's not a metric ton of consoles ready to fire up at any time, but it still suits my needs perfectly : It's clean, looks good, fits with the room and it allows me to game from the couch by rolling it closer some. That's an excellent setup for me at the moment.
I'll put some figurines on top of the monitor and that'll be a pretty cute remote game center
it'll brighten the living room too. hell it already looks quite good in the corner as is!