Hey all,
I picked up a dead Raiden DX board on the cheap, with the hopes of seeing what I can do to get it working. Though I've repaired a couple boards in the past, I am by no means an expert, and those past repairs were simple stuff like failed audio circuits or faulty rom swaps.
Figured I should get a post up in case anyone wants to chime in onto what things I can look out for.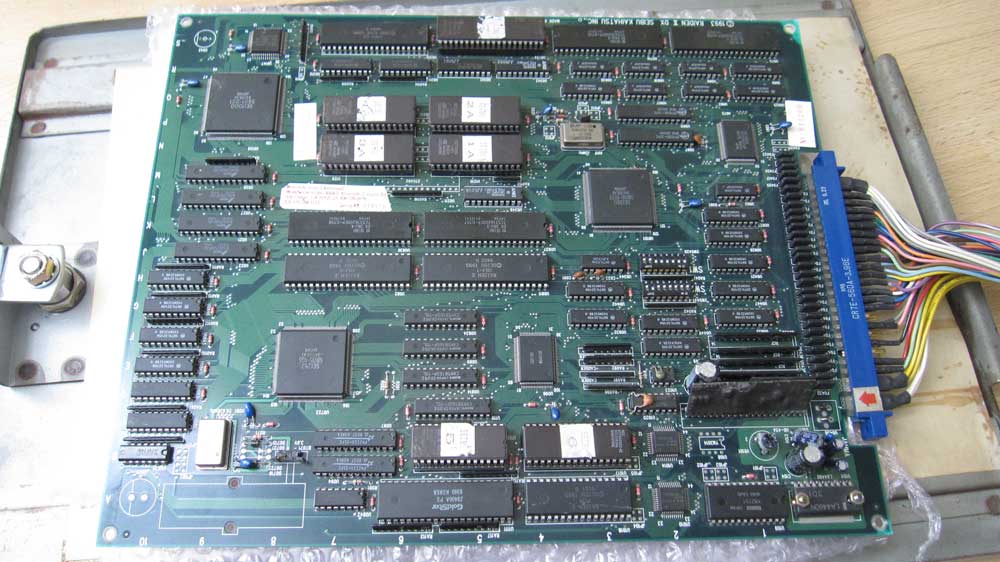 The board was dead-dead, didn't power up at all, black screen, no audio etc... dead.
On top of that, it had evidence that the board was not well stored, but seemed to be sandwiched between other boards. Given the fact that there were scratches all over the place. Check out this cap!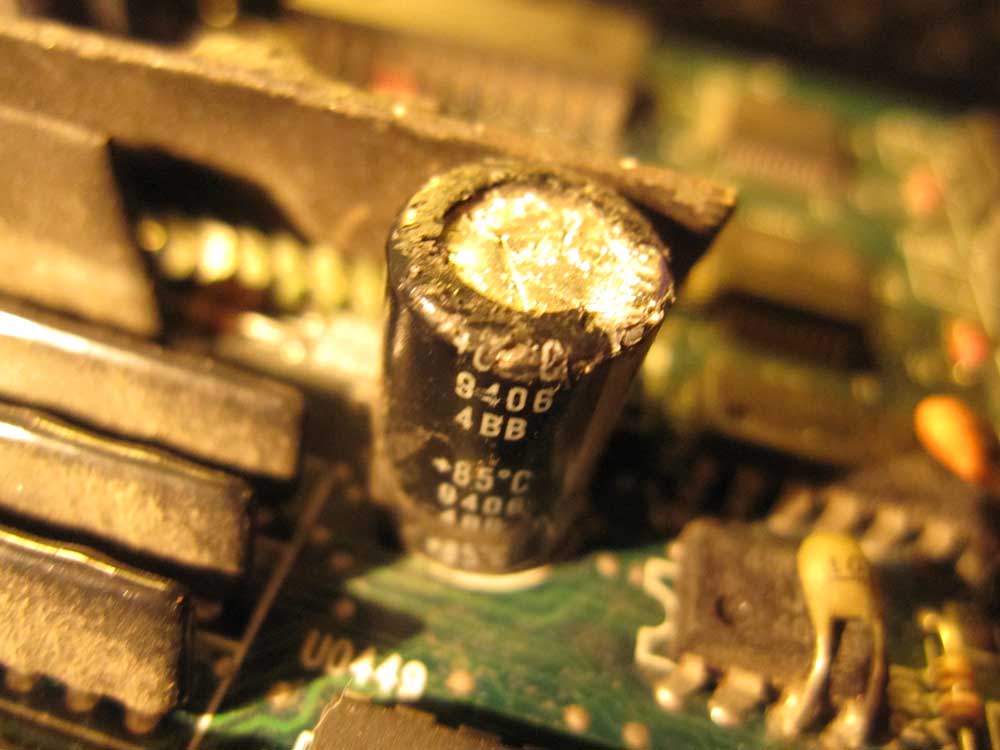 All the caps are like this. In my experience, most of the time capacitors are linked to the audio circuit, and seeing that these were all in the audio section of the board I left them alone till I can get this thing powered.
First things first: Clean the board, look for physical damage.
I took out my trusty magnifying glass and scanned through looking for any kind of blemishes I could find. Primarily looking for broken traces given the amount of scratches.
But the first, most obvious thing I noticed was one of the custom chips had a bunch of legs detached from the board!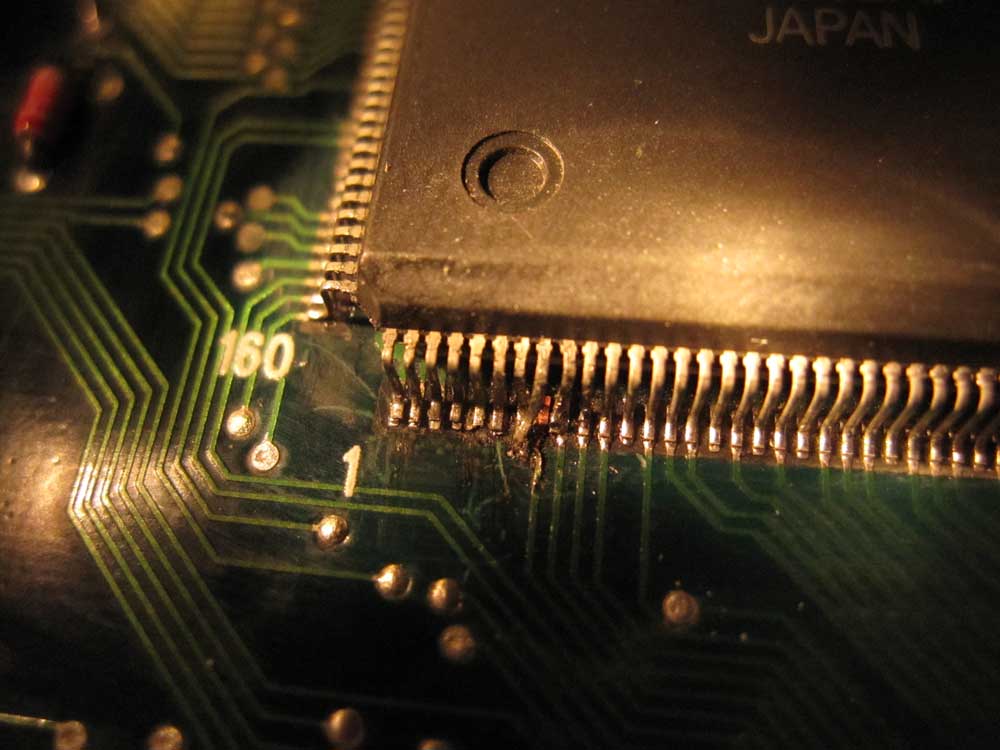 On top of that, one of the traces was ripped. I'm guessing something must have snagged on the legs and got yanked when the board was moved around.
I thought "well that must be the reason it doesn't power up".
So with a little hope, I soldered the legs back as best I could, continuity tested to make sure they were in fact connected and not connected to each-other, then plugged it in and voila! The game boots! I was ecstatic there is still some life left in this board! But there's no audio, and the sprites are crap.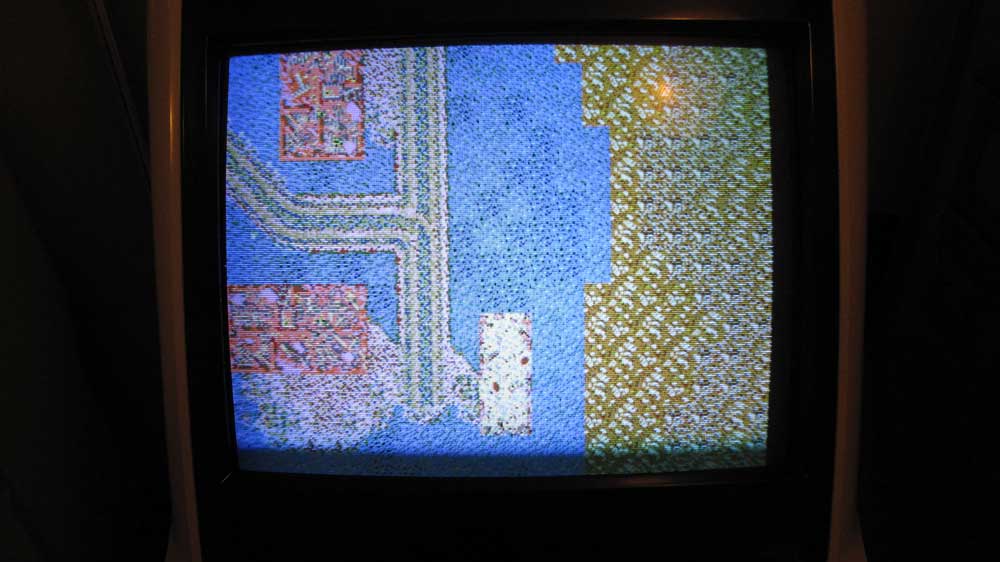 It seemed like the game was running properly in demo mode.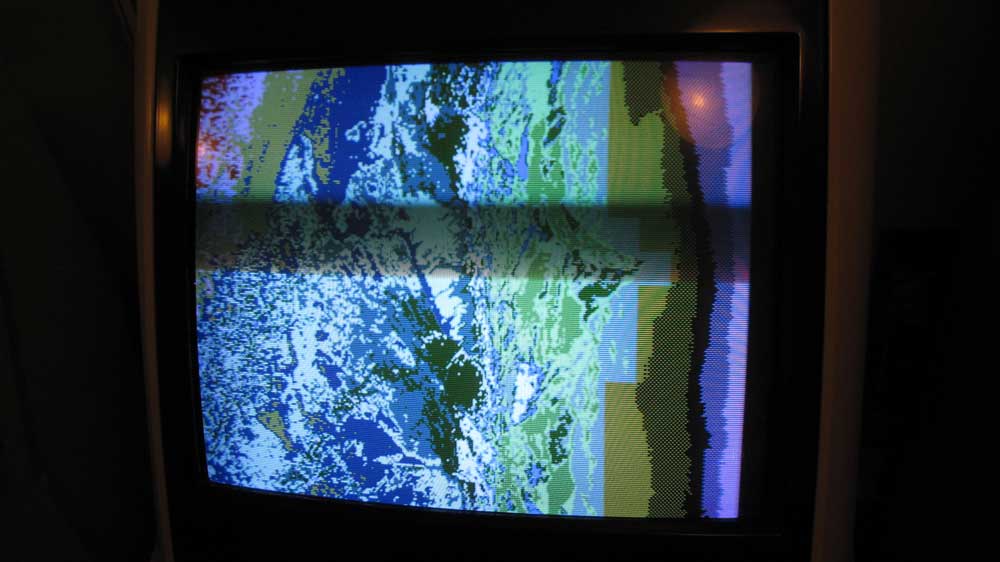 So the next thing I looked at was the audio, 'cause I'd like to ascertain whether the game logic was indeed running properly, plus I've fixed audio sections on boards before so I was confident I could find something. Lo and behold I did. There was a tiny broken trace on the bottom side of the board that was linked to the audio section (sorry about the blurry pic, it's hard to get an up-close shot of something this small).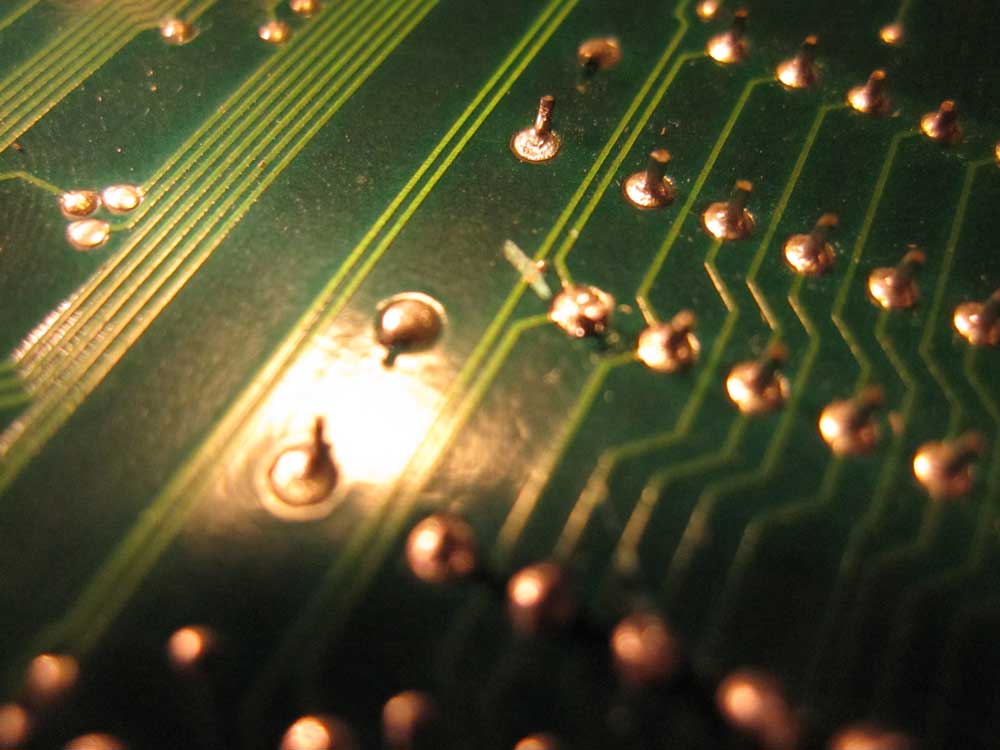 I jumpered the connection as best I could (kinda shanty-like, but it works), powered it up again and the audio worked! Now I can audibly tell that the game logic is intact, I can start a game, select a mission and hear my ship fire, bomb, get destroyed...everything.
Power... check.
Game logic... check.
Audio... check.
Now the graphic problem...
So I get no ship, bullets, explosions, or title sprites at all. All that is displayed is the background sprites all messed up in colours. I thought there could be two possibilities, 1. sprite roms are bunk, 2. the video ram is crap.
At this point I took out my logic probe and started poking around the rams in the video section.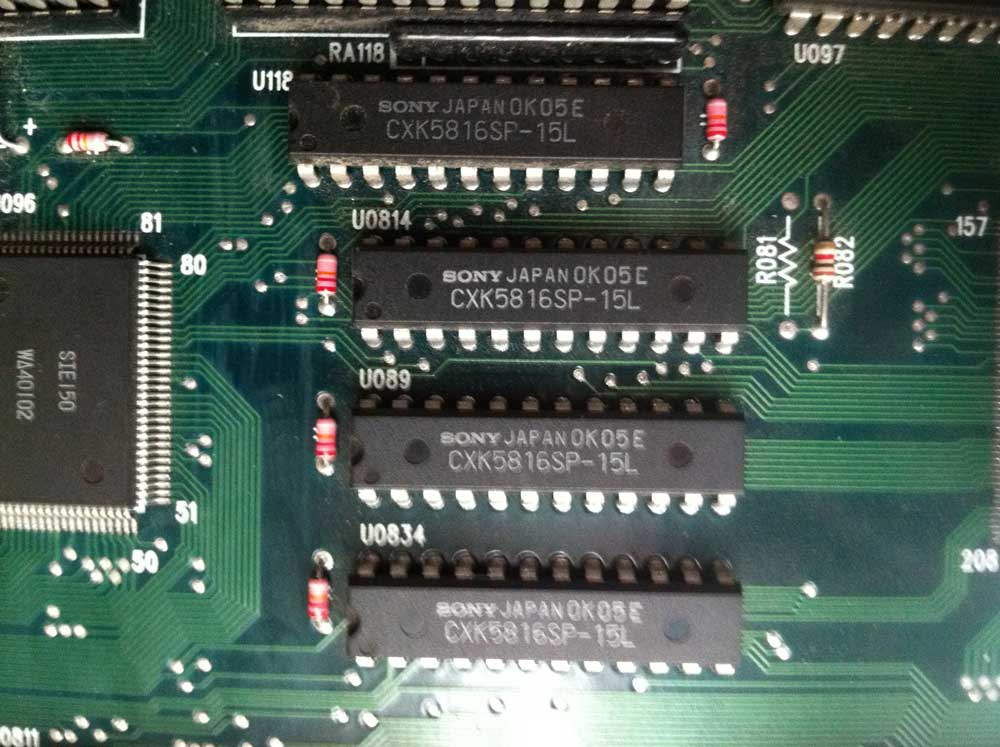 Now I'm not too knowledgeable with logic probes, but what I found seemed to me that a couple of my rams had floating outputs (nether high nor low and not pulsing?). I connected my working Raiden II board to compare my findings in the video section (since the boards are practically the same hardware, I figured it should be similar in function), found out that 2 out of the 4 rams on my DX board seems suspicious.
This is where I think I need some input on what to look for. Is using a logic probe the best tool to ascertain the fault?
I went to my local electronics shop where I usually am able to find most components I run into on a board, hoping to just shotgun the rams, but they didn't have any of these in stock.
Does anyone know a source I can buy these from?
Any input you guys have would be much appreciated, I really hope I can bring this one back from the dead, its such a great game. Right now, it's on life-support!
ps. I've been referencing
this thread
a lot, since it's the only in-depth look at repairing this board that i could find on the net.