Replay link:
https://www.youtube.com/watch?v=ssXAr-ow1KI
Why choose Genesis for whaling?
Genesis is a good ship to figh with three boss on these route because of Alpha Beam, easy to get a high score, there is not too much caluation for boss's hp.
Information about Genesis
itself
Genesis itsself is not pretty strong, this ship need a strategy to manage its guage, both for surviving and scoring play
Main weapon & option
Genesis has two options, they can shot bullet and crash enemies, the crash damage is pretty high, but they will be destoried when they receive a lot of damage from enemies; one option is destoried, the guage will reduce by 50%; the guage increase over 50%, the option which above Genesis will be generated, another option will be generated when the guage is full.
Option has three pattern, original pattern, follow pattern, and behind pattern
Some detailed inforamtion see under table
Missile

Laser

Wave

Alpha beam
Genesis has alpha beam which is a powerful weapon to destory enemies, alpha beam will be launched when two option are absorbed by Genesis itself, alpha beam will do more damage when it receive enemies burst beam, it will be increased 4 times, the maximum alpha beam has a little bit of AOE attack, it will also be decreased when stopping receiving enemies burst beam evenually, and remain at level 1 finally; alpha beam cannot be stop until the guaga run out, it will reduce guage evenually, you can regenerate guage through using alpha beam to kill enemies or receive enemy's burst beam,
but usually the consumption rate is higher than regeration rate
; Genesis cannot trun around when using alpha beam
Scoring system
Maximum normal multiple:17
Advance strategy: Alpha Beam Cancel
Genesis will make a lot of damage when it absorb two options, it looks like a light ball, the range of this attack is not small,
the most important is that two options will not receive damage from enemies, this way is the core strategy for scroing play, to kill some enemies with x85
. This process is not long and not short, but do not complele the absorption, you need to canel this process timely if you actually don't want to use Alpha beam.
Alpha Beam Not Cancel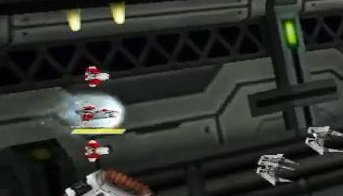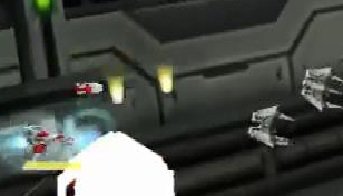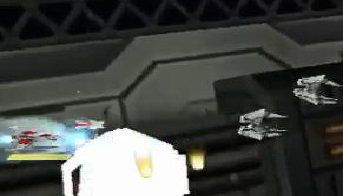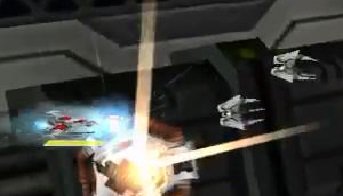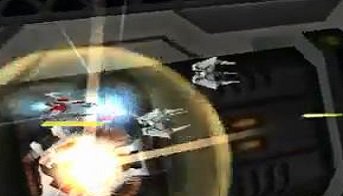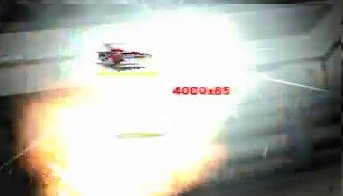 Alpha Beam Cancel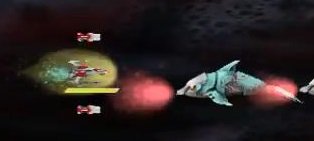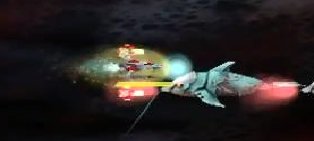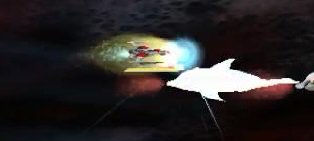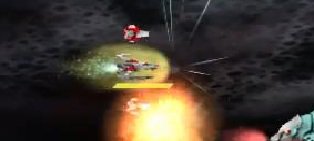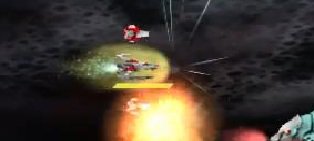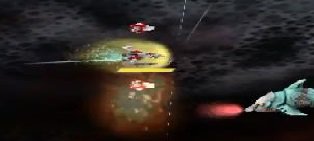 Strategy summary
*Using option to crash enemies, especially Alpha Beam Cancel approach
*Plan your Alpha Beam, when you run out of guage, Genesis is weak, and need to regenerate guage quickly
*Option shot will regenerate more guage than Genesis itself
Zone Q Scoring Strategy
The beginning is quite dangerous if you want to get a high score because you don't have a shield, but easy to restart, try your best to get the maximum nomal mutiple through killing enemies quickly by Alpha Beam. Large stone has 5,000 pts, must get this points with high mutiple.
Next to the rising stage, red laser cannon has 2,500 pts, Violet ball has 5,000 pts, must get this points with x85, and there is a gold ball item, unhide it quickly but do not get it; other cannon and sea urchin just has 800 pts,
be careful sea urchin has a lot of hp, do not use option to crash it directly
. The whole process cause a lot of damage for the above option, so be careful do not let this option destory when you see two burst beam enemies.
For this stage, hit the under burst beam enemy firstly but do not kill it, and them go up and hit the above one quickly, if you way is correct, you also can save one enemy group and then kill the group with x136. Killing the under burst beam enemy finally, and then focus fire on the middle boss (anglerfish), get the gold ball and do some damage, and try your best do not hit the small stone, you can kill anglerfish with x119; Burst beam enemy has 8,000 pts, group enemy bonus is 3,000 pts, get all of these points with x136 is the best.






When run out of guaga, try to regenerate guaga quickly, and use alpha beam immediately, so you can kill more fish and get two group bonus, and then kill two javelin which has 3,000 pts and two large stone, and then stay at the middle space do not move, you can kill the final two groups which has 4,000 pts bonus.
two fish group

two javelin

final two group

In the end, there is a red ball, do not get it until one option is generated, it is hard to use single laser to regenerated the guage.
Dark Flare Strategy
Usually when you reach this stage, your guaga is over 50% or more. So see it and close it as soon as possible, and do 3 to 5 times Alpha Beam Cancel attack during the first attack. And then focus Alpha Beam Cancel attack on one part of Dark Flare, but do not make too much damage.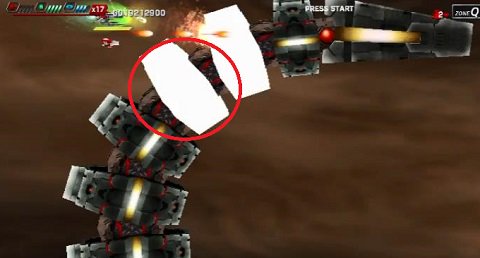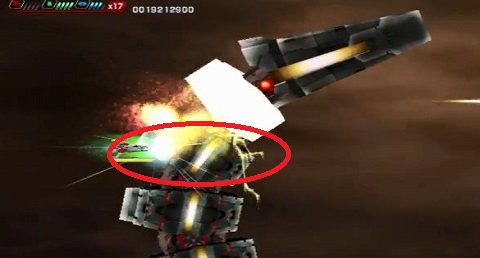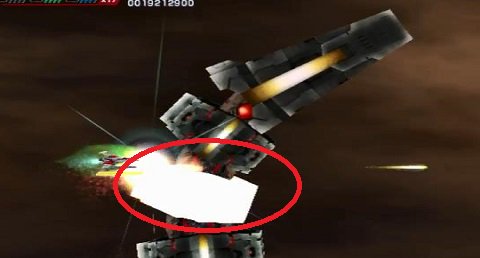 Then go up and stay the front of the head of Dark Flare, after Dark Flare launch small fish 3 times, then absorb option and hold on, aim at the first part then shot alpha beam, then move down slowly and stay the front of the tail of Dark Flare, then move up quickly
before Dark Flare launch burst beam
, therefore, you can let the burst beam at a nice direction, and you just stay here to receive the burst beam, and then get the maximum alpha beam, and destory all part of Dark Flare evenually. The second part from tail to head is quiet hard to destory, if you do not do a lot of damage at the beginning, the first part from tail to head cannot be destoried timely. So you can get 6 part and the main body score in the battle of Dark Flare with x136 - (6 x 30,000 + 100,000)x136






To sum up, the difficulty of this zone is Dark Flare. If you don't want to upgrade weapon to laser level, it will be easy to destroy all parts with x136. That means do not get the final red ball at this zone, but on the next zone, you can just kill less eneimes because your laser level is at most level 0, instead of level 1
Zone U strategy
At the beginning, hold on alpha beam, and when three group all come out, release alpha beam, and get the maximum normal mutiple.
When reach the stage, there are two group (4,000 pts) and two by two middle movement cannon (6,000 pts) at this moment, trying to avoid bullet as soon as possible, even alpha beam can cancel the bullet, but it is not save at the above and under side of Genesis body, if you are hit too much, the multiple will reduce a lot, losing some scores.
And then, move to the behind of middle boss (Green pagurian), just use single laser to attack it, that means do not do a lot of damage first because you now do not have option. Later, a huge number of bars come out, you can generate option quickly, and then crash this middle boss, for this moment, Alpha Beam Cancel is not a good way due to the hitbox of middle boss, so just trun around and use option to crash it. Then stay here and don't move.
And then just follow the step of under 4 pictures
Moving to top left corner, be careful your above option could be destoried

Do not get the red ball, because if you get, your laser level is 5, and if you get one more red ball, your weapon becomes to wave, wave is not good for scoring play at this moment. Put your option like this pattern, and do some damage to burst beam enemies but do not kill it. And then trun around, and move down, and launch alpha beam as soon as possible.

When receive enemies burst beam, it will take some time to maxmize alpha beam, so move up slowly, you can get group bonus with x136, instead of x85 x102 or x119

Same strategy, get group bonuns with x136

Then for next middle boss (goldfish), the strategy is followed by under three steps
First, let the first group come out, when a second and then kill all

If the time is correct, when you kill all first enemies, you can hit the middle boss (goldfish) during the process of your movement from bottom to top.

Last, kill all left enemies one by one, try your best hit the goldfish at the same time, and then you can kill goldfish with x85

Then for next several group
Because you have alread set your option to follow pattern, when option generate, it can hit eneimes, and if you are lucky, you can get these two group bouns with x51

And then, use alpha beam as soon as possible, and just stay here

When reach this moment, move up and kill the above javelin first


and then move down slowly, let your option come out, kill the under javelin, if you are play well, you can use option to crash this javelin

Finally, use alpha beam as soon as possible to kill all left enemies.

*During this period, there is a red ball and blue ball, and they are very close, if you get the previous red ball, that means you need to avoid this red ball, but it is quite difficult, that is the reason why do not get the previous one. For this video, I fail to avoid the previous one, so I have to avoid the later one but I did it. However, it has a little influence on the movement for get more scores
At the end of this stage, just follow the video, not too much explantion, but the most thing I want to mention again, do not upgrade your weapon to wave!! Both for suriviving and scoring play
Heavy Gluttons Strategy
Not too much explantion, for this video, just quick kill this boss.
Each time you counterburst, you probably can get 2 to 2.5 million score through kill some small gluttons (each one, 800 pts), but when the Heavy Gluttons enter the background, the duration is random (once, twice or third times to call a group of small gluttons) so the time bonus is not fixed. Hard to make a strategy how to get more score through milk small gluttons
Zone Z strategy
In the beginning, normal shot and kill the first fish groups, and then go down, absorb option, kill most of the second fish groups, left some fish, and then use alpha beam to kill left fish, and then just follow the video.
In the stage of middle boss (sea snake), not too much explantion because I do not make a perfect stratgy for this, sometime will make a mistake, like I could kill sea snake with x51 or even x17. So just follow the video.
In the stage of another middle boss (Violet pagurian), not too much explantion, so just follow the video.
In the stage of final middle boss(sea horse), usually you have a few of guaga at this moment

go to the behind of sea horse, and do some damage

and then go to the left side of screen to get the red ball(it will go out of screen once, but you still can get it

When you get the red ball, a group will come out from the bottom, kill them all and absorb option timely, if not, one option could be destoried. And then when another group come out from the top, kill the bottom side of this group and then use alpha beam, try your best to hit sea horse during the whole period. And also during this period, you still can kill all enemies with x68, if your movement is correct.

If you play well, you can kill sea horse when it go out of the screen with x136 after you get the maximum alpha beam, a little bit of calculation about hp
The last part, not too much explantion because I do not make a perfect stratgy for this, so just follow this video.
If anything is correct, you at least can have level 2 wave to whale, using level 1 wave to milk GTV missile is quite hard.
G.T.V Strategy
Too much explantion, I am lasy now
I am not sure my strategy is good, but at least, I can get all missiles (each one, 30,000 pts) with x85, but for the small dolphins, quite hard to kill some of them with x85. So I just explain something I think it is important.
*About multiple reduction, the principle is hard to explain, just remeber, except the beginning, you cannot be hit twice, if you are hit twice, you cannot regenerate the multiple to 17.
*About the first counterburst in this battle, do not absorb burst beam during the whole period because you cannot stop it, and you cannot trun around. if you do not stop alpha beam timely, when the GTV go to the second pattern, you will be dangerous.
*About the HP calculation, just fix your plan to attack GTV
*Try your best to adjust your option position for dudging bullet, do not let you option die when you need them
Some opinions
My idea score in this route is about 275 billion, for this video, scoring play in Zone Z is not so good except GTV.
Quite hard to get more score in this route, Top 1 is 311 billion, I do not know how to get this point, even 300 billion, probably a lot of detailed strategies in Zone U and Zone Z, but I still do not find them