Since we started with
VISCO
, I guess it makes sense to cover
Video System
next, as both companies share the same origin story.
They entered the industry in 1985 with a bunch of adult mahjong games (which would remain one of their main lines of business), released the first memorable title,
Rabio Lepus
, in 1987, and established several semi-successful franchises:
F1 Grand Prix
series,
Super Volleyball/Power Spikes
series, and of course the
Sonic Wings
games. After the release of
Sonic Wings
in 1992 the development team under Shinsuke Nakamura split off to form Psikyo. Video System largely moved to the Neo Geo Platform from then, but apparently faced difficulties securing development know-how. In later years, they produced a respectable 3D rendition of their shoot 'em up series for the N64 in the shape of
Sonic Wings Assault
and outsourced development for 3D F1 Grand Prix racing games to Ubisoft, before eventually fading away.
Questions for discussion:
- What was your first exposure to Video System?
- What game(s) do you associate most with them?
- What do you think is their stand-out title?
- Overall, what is your image of their games?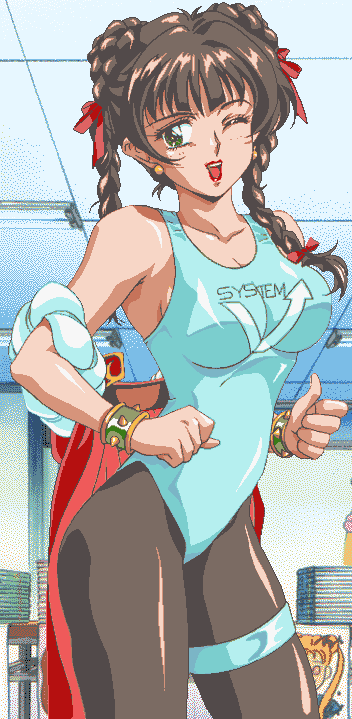 What was your first exposure to Video System?
Rabio Lepus for PC Engine was the first game I played, but I didn't really become aware of Video System as a developer until I really dug into the Neo Geo library and played Sonic Wings 2 & 3 and Power Spikes II.
What game(s) do you associate most with them?
Definitely the Sonic Wings series.
What do you think is their stand-out title?
Sonic Wings 3
and
Sonic Wings Limited
are the most put-together of the lot, imo, and probably their most "quality" games. However, I really like the
Idol Mahjong Final Romance
series, too.
I also think their excursions into different genres — with decidedly mixed results — in the early 90s are pretty interesting. Even when terrible (i.e.
Tao Taido
or
Turbo Force
) the games are still kind of oddly satisfying in that b-movie way.
Karate Blazers
and
Spinal Breakers
are OK. The latter for sure has one of the best needlessly complicated plots in arcade games ever, with Captain Waffle (:lol:) and his family's quest against the sentient, time-travelling "hildroids".
Then there's the awesome over the top
Bakuretsu Crash Race
(Lethal Crash Race) that applies Sonic Wings' quirkiness to a top-down racer (Lamborjini, Borsche, and Mursedes-Banz
)
Overall, what is your image of their games?
I like how there's this common thread of quirky humor and bizarre characters running through all their games and their multiple endings, and how everyone seems to eventually end up being cast in a Sonic Wings game. Another point I observe across most of their games is that they have a kind of "light" feeling, maybe due to the weak sound effects and damage feedback the player gets, but often you don't feel like you're really tearing into your opponents like you feel in a lot of other games. It's similar to the sense I get from a lot of Psikyo games.
I used to feel Video System shooters were just a budget version of a Psikyo game, but now I actually like the Sonic Wings series better than some of the early Psikyo output. Apparently the first Sonic Wings made quite an impact, especially in Japanese arcades, in when it was released, and I can see why it would have really stood out with it's fast paced gameplay and short stages. Shooters would definitely be different thereafter, and for that contribution to the evolution of the genre I'm grateful.* Thanks Video System!
*As well as their crowning innovation in form of the
HYPER-Active Continuation and Buy-In "ADD-A-COIN" Feature
!!!**
**That's what I'm going to call credit feeding from now on.