GaijinPunch wrote:
louisg wrote:
In the game, weren't they more 80s-future-Anime style like Zillion or the Japan cover of Quartet SMS? God I love that aesthetic.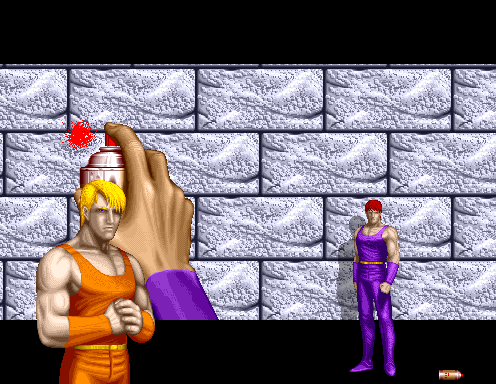 Final fight meets... Cobra?
Oh wow, they really were consistently in tank tops. Our heroes are ready to bust out a full exercise routine and/or dance-off at the drop of a hat!
More hidden gems: I don't think anyone mentioned Route 16 yet..? I saw it recently got a Switch release, and CGR has been talking about the Famicom port (which IMO is better). It's rough around the edges, but I think it's a neat maze game that has some very interesting play mechanics. That I'm a total sucker for car-related games probably has something to do with it though. But it's like Rally X meets Venture.
Teddy Boy I forgot to mention. It's one of my favorite Bubble Bobble-ish games. If you like the arcade one, there's a really excellent sorta-port/sequel onto Sega CD (originally from that download service). Some of the ROMs you find online are bugged out and can crash, but the SCD version is solid. And there's a cute SMS card of it, too.
You know what's neat too is Kickman. I was recently playing the C64 port. While the sound is horrible, it's a unique game worth checking out. Speaking of early American arcade games, I think Solar Fox rules, and that's one that people don't talk about much. Some people like the home ports, but they're all mutilated in some way or another.
Some of the old Konami games could use love-- I'm thinking of Locomotion. It predates Pipe Dream, so if nothing else, it's maybe of historic interest. Road Fighter also might be considered a hidden gem, as could the Konami GT followup.
I guess we're starting to scrape the barrel a little, but there are so many forgotten games that have ideas which weren't revisited much, for better or worse. Something like Max RPM won't blow your mind, but it's cool in that it's a back-view drag-race game and it's all about shifting and drafting. Then there's Midway's Demolition Derby, which is one of the only games about that topic, and probably the only one from that decade. Or that Sega Samurai game that's on Memorial 2 is really interesting in that it's a simple arcade game that still manages to have cinematic pacing.