Ghegs wrote:
KAI, or other train-players, thoughts?
I tried to get into Japanese Rail Sim (and Railfan), but that kind of games using real video captures can be really off-putting (that moment when the video starts to slow down for example feels super weird.). They are fun tho, the mechanics are similar to the ddg series but less punishing. That switch version looks like a compilation off all the games released on 3DS a few years ago.
FinalBaton wrote:
What's available on console that's a good port, easy to understand/navigate and preferably has a custom controller?

All of them have custom controllers, but i would recommend Densha de go! Professional on PSX over any other entry. The game is basically DDG1 + DDG2 + new content and reworked UI to make things easier.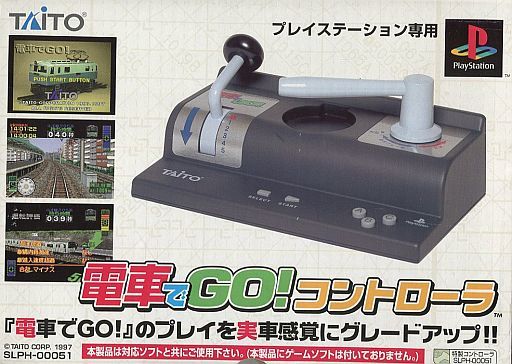 Afaik, you can play DDG1, 2, Pro, Kisha de Go and DDG Nagoya on PSX, and DDG3 on PS2 with this type controller. There's also a
One Handle
type controller, but this one looks cooler and it's more similar to the original arcade setup.
Now the biggest problem, all games on the DDG series are 100% in japanese (with the exception of DDG64 on the N64 which was fan translated 2 years ago). Most of the ports have quick tutorials when you select the low difficulty routes, but they still are hard to navigate if you don't have at least basic jp knowledge.
If your friend has access to a N64 with everdrive, that game is the best pick to get into this train thingy. Or in case he's a patient guy, just make him read
that pdf
I posted before.
Here's a subbed video detailing the main mechanics of DDG. You can play any arcade entry by just knowing all this basic stuff
https://www.youtube.com/watch?v=e3kEiEyGaVM
and in case you want to go full train, here's a high difficulty runs tutorial
https://www.youtube.com/watch?v=oKJjZ91KI5Y
never go full train
BTW, old news but the latest DDG!! update (Ver.5.0) allows you to play the old DDG1 and 2 arcade games.
Also DDG Kids is a thing...