Two wildly different games that I wasted my time with last week, that I think might possibly fit into the category of this thread.
Wonder Boy in Monster Land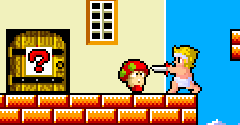 This game ticks all the "euroshmup" boxes, but gets away with it since it's a platformer.
It's kind of funny how many arcade games in the late 80s tried expanding into the dangerous waters of "RPG elements" while fighting to maintain the arcade flow, that keeps a steady income of quarters, and challenges experienced players. From games with light shops like Black Tiger, Fantasy Zone or Willow, to the full-on "open world" exp grinding of Cadash.
The result is always that there's pretty much a required optimal path, involving upgrading your skills as much and early as possible, making these elements superficial at best, but I'll admit I enjoy it a lot. It gives me the illusion of a big adventure, and starting Wonder Boy out defenseless in his diapers is a cute move to accentuate that.
I played the game on M2's Monster World collection on my X360 and initially deemed it too random and difficult to ever realistically beat, but by complete chance as I was visiting my friend in his home arcade the very next day, he just happened to have that game running when I got there, and learning all the hidden tidbits of the game, I managed a 1CC on the very same day.
First of all, it turns out that buying a drink at a bar will always heal you for one heart, which is pretty useful considering you continuously lose health as the in-game timer progresses.
Aside from that, planning out your path to get the best armor and shield as early as possible is quite essential. I never quite got a hang of the joystick wiggling to get more money from coins, but spending a couple whirlwinds here and there you can still get the money you need. You also need to know where to find every sword upgrade or you might as well not even bother with the later bosses.
Once you got all that down, the game is actually quite easy, but still very enjoyable.
Demon Front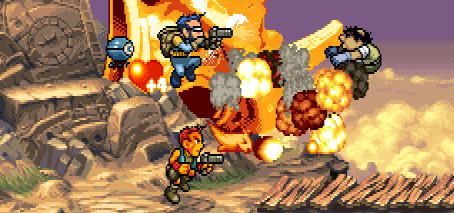 I'm gonna go the scrub route here and ask how the hell is a 1CC in any way possible of this game? After failing to get further than the third boss after numerous attempts, I did a credit feed through the game, and some of the later bosses just seem completely impossible to me, with projectiles and other attacks simply swarming you with no way around them all at the same time. I tried watching videos of people doing it, and it seems like they just magically somehow manage to dodge them all (almost to the level of that one Dragon Blaze longplay), and lucking out a lot. Stuff like that makes me feel extremely shitty at games.
Anyway, for as long as the game feels manageable to me, this is an insanely good run 'n' gun, like much more than I ever realised. I have owned the game for over five years, but never even bothered putting it into my cab as I always dismissed it as just a Metal Slug clone, but even though the inspiration is very obvious, you quickly realise that it has completely its own identity once you start playing it, both in the way enemies behave, and all the unique mechanics of the game.
I'd even go as far as to claim this is probably one of the best games of the genre. What a god damn blast. It's really amazing how much work has been put into it, they did not skimp out on
anything
. Kraut Buster (which I also had the chance to try out) wishes it were this.
The game also seems to be quite an unsolved mystery, at least as far as the general internet goes. There aren't any guides to be found (in english) anywhere, and the best documentation on the game's mechanics is of course
right here on a forum that didn't let me down
. However it's mostly broader stuff like secrets, such as the keys etc.
I'm more interested in how to properly utilize the familiars (which is a really cool mechanic, but I haven't found any good use for them), what the various bars mean - namely the hearts you gets for knifing enemies, and the blue one you get just for killing stuff, and how the combo affects scoring and potentially other things.