Been having some fun clearing some Mega Drive sprite-scaling rail shooters. I have a bit of soft spot for the genre (especially Night Striker).
Burning Force
- Recently had an opportunity to play the beautiful but punishing arcade original at an acquaintance's place and thus decided to revisit its only port. First up,
the OST
is simply
out of this world
(linking the arcade version here). Presentation-wise I'd describe the MD-port as "simple and clean", but I think it actually works to the game's advantage. Scrolling is pretty smooth (compared to the likes of Space Harrier II or the awful Super Thunder Blade) and you get a good sense of spacial depth.
I really dig the alteration between hoverbike and flying stages here. The former circumvent the "player character blocking enemies from view" problem common in these types of games and make the game feel a bit like a 3D Galaga.
The MD port changes up a few things that make it
a lot
easier. Bosses are far less aggressive for one, but you also get three hit points per life. There's also a new invincibility item. Collect five of them and you can activate temporary invincibility with the C button (the ability to do so even persists after the loss of a life). Additionally, you can now find star-items in the bonus stages; collecting all ten of them will net you an extend. Indeed, mastering these bonus stages (along with holding on the spread shot as much as possible) proved to be key to clearing the game.
8/10
...actually 8.5/10, just because Hiromi Tengenji is 80s waifu design at its finest.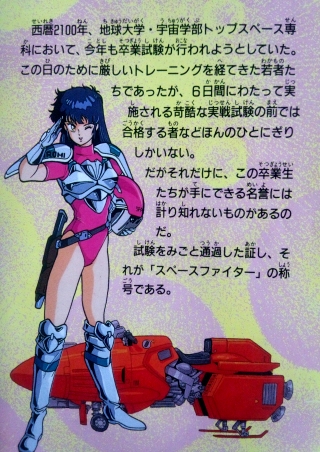 Panorama Cotton
- Visually really, really impressive game. Obviously the various scaling effects, massive amount of enemies on screen, and creative segues from one set-piece to the next are super cool, but the sprite work itself is simply a joy to behold, with its intense detail and bright colors. The title screen alone is the most beautiful of any 16-Bit game I know.
I love how all aspects of sidescrolling Cotton were perfectly translated into the rail shooter realm. As opposed to the original Cotton however, here you should just use magic abundantly, especially whenever the screen is flooded with baddies. You'll be rewarded with life-ups and yet more magic to dispense on the hapless bums. It's a nice escalation curve, but it really makes the game an easy clear. Numerous scoring secrets and alternate paths (plus the option to play at top speed for higher score) will make you want to revisit the game nonetheless.
9/10
Phelios
- Not a rail shooter, obviously, but after Burning Force I felt I had to give this fellow System 2 port a go. Basically all the visual stylings that make the arcade game so cool are nowhere to be found here. Still a really solid early MD shmup though, because of the unusual setting and fun charge mechanic. Super easy clear though.
7.5/10