So the LRG Switch release of
Freedom Planet
allowed me to finally play this game, literally years after originally purchasing it as a part of some Humble Bundle, all thanks to the convenience of handheld gaming.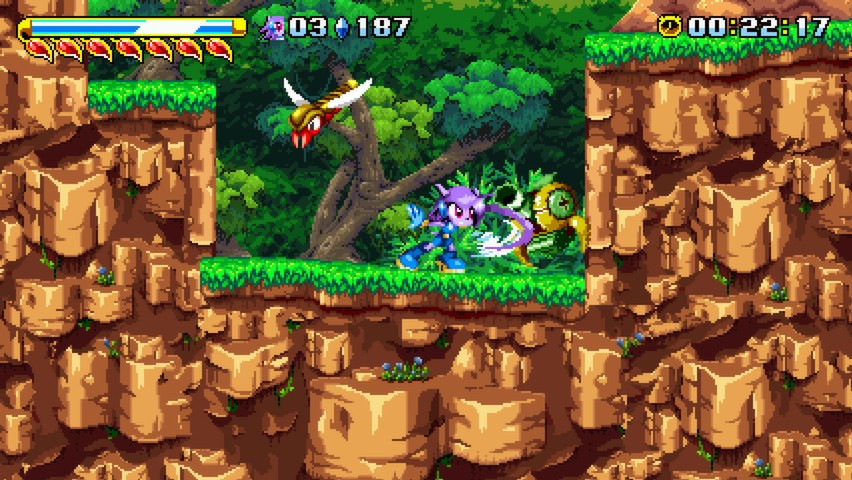 And, uh, why the fuck are people in such an uproar about Sonic Mania when Freedom Planet is better in almost every conceviable way?
This is exactly everything I'd want from a "modern" "Sonic" game, it fixes all the issues people usually have with Sonic games, and manages to exude all the most important qualities.
Every single stage is just pure, fun bliss. They are all unique and creatively designed, with tons of new original ideas coming at you constantly as they evolve dynamically while the game employs the level design itself as a method for continuous storytelling. There's simply no end to the how much the game keeps wowing me with new stuff happening. The amount of work that's been put into making every single stage stand out and constantly feel fresh demands infinite respect.
All of that is actually in a bit of a constrast to the game's primary issue, being the overly long, confusing, and basically unnecessary story segments with cringeworthy voice acting that ends up coming across as an amateur Sonic fangame - Which it might have started out as, but something every other aspect of the game surpasses by a long shot. There is the option of playing the game entirely without cutscenes, and honestly I think I would recommend that, without having even tried it. The plot is super confusing anyway, due to immediately introducing a ton of characters and pretending you already know them, as well as nearly identical, foreign location names.
While the sprites aren't always super well done, the overall visual presentation is simply gorgeous as you're zooming through the gigantic levels. And unlike most of the Sonic games, the speed is merely a tool, it never feels forced, and it also never feels like a weakness. Enemies won't hurt you on impact, and there is almost always a solid visual indication when you need to watch out for where you are going. Also, in what might be considered an imperfection in the game's attempt to replicate Sonic physics, switching to manageable speed at any moment is very basic, while moves that you might assume require a high speed (such as running along a loop) can usually be performed with little to no momentum - which in the context of keeping the gameplay entertaining is completely ok!
The boss fights are well designed, fun, and seem to embrace both fast mayham and a methodic, slow approach with equal excellence.
And, oh yeah, the game has a hitpoint system, which means you'll actually care about not getting hit. The game is by no means hard, and you get a ton of 1ups, but the fact that it actually matters whether you get hit still plays a pretty central role along with the generally fun, simple "combat" system.
Overall, though Sonic being the obvious inspiration, Freedom Planet also ends up feeling like a super fun take on Rocket Knight.