they are also so wrong about the megadrive versions of the games being as good as. the megadrive was far from arcade perfect.
in all honesty the arcade industry is a shadow of its former self in the west. But where the americans produced cone after clone of Mortal kombat and anything else. Japan got creative with Dedicated machines and photo booth sticker machines linked machines for fighting and racing (lag free may I add) prodcing a unique exprience that cant be found at home.
I hate playing halo 2 online becuase of anoying poeple screaming down the mic how they got one kill on me if it was in the arcade i seriousley doubt any one would scream in my face IN YOUR FACE NOOOOOOB OOOOH I WHUPED YOUR ASS SO BAD AND R%£D YOUR MOTHER etc etc. if they did i dount they would get many rematches and still now many of the great games fail to get a home port. because the hardware is to great, they want to keep it exclusive to the arcades or its just too dedicated.
Lots of girls round the arcades by my house (southport, liverpool, UK its a sea sidetown) Play the dance machines despite being able to pay them on there flimsy mats at home. because its the atmosphere.
Would sega of made the Super DX hydrolics monster that is the big ass outrun 2 cab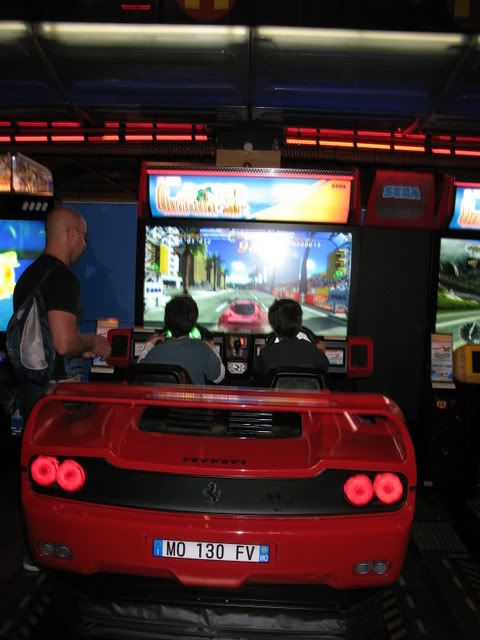 this was taken at the trafford center in manchester england and it was a sunday the whole time i was there I did not see the machine not being used once despite its 2GBP a go or 4GBP for the two player mode.
only a few months back they had ghost squad
must of been making money for them to warrent placing the new upgrade of it